Let's face it. Driving traffic to a website isn't the most interesting topic.
While it's very important, most businesses and marketers probably wish they could bypass it and still succeed online.
But here's the truth, generating traffic through SEO can be easy and fun. 
We'll show you some easy tweaks you can make on your website today that can improve your organic visibility, clickthrough rate, and traffic.
These tips helped Taylor, a photographer, to increase organic traffic by 158% and got 84 leads each month.
Whether you're targeting businesses (B2B) or you want to communicate your message directly to customers (B2C), SEO should be the bedrock of your marketing strategy.
The ultimate goal is to rank on the first page (preferably position 0 sometimes known as a featured snippet and position 1) of Google, because 75% of internet users don't even look past the first page of search results.
Once you're ranking higher than your competitors, you'll definitely get the clicks, traffic, and if your offer or product is enticing enough and helpful, you'll see an uptick in sales.
Here are seven easy but powerful SEO tips you can implement today to increase your website's ranking and attract more customers:
1. Target relevant keywords
Keyword research is the easiest SEO technique ever. But website owners and businesses often ignore it or do it with a half-baked approach.
At Metigy, we understand the importance of keywords and have chosen to target a primary keyword on each post we create.
You don't even have to guess keywords to use any longer, some tools can help you achieve this goal.
First, Google autosuggest is powerful and can reveal some ideas for you. 
Just enter your main keyword, then add an alphabet starting with 'a' then 'b', and so on. You'll uncover some great keyword ideas: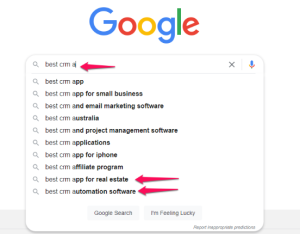 Here's another example: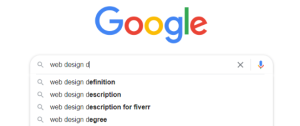 With these keyword insights, you can proceed with a more hands-on tool such as Google Keywords Planner, Ahrefs, or SEMrush.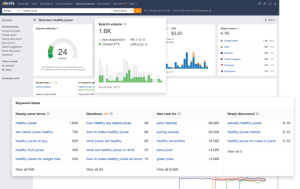 As a business, it's important to optimize every page or post properly with primary and secondary keywords. 
The essence of search engine optimization (SEO) is to create continually content that answers specific questions and keywords your target audience is searching for.
2. Create quality engaging content
The most important actionable factor to increase your traffic from Google is to consistently create quality content. Here's how we define quality content:
This is content that is easy to understand and is relevant to the reader's interests. 
The format of your content is also an important factor. This will determine how much people enjoy consuming the content.
Ideally, the opening paragraphs should be short, as too long sentences will distract your readers. Here's a great example from Brian Dean's post: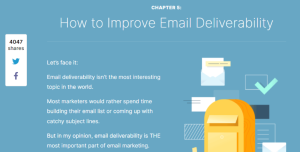 The body of your content should also be broken up into sections and should use H2 or H3 headings for the subheadings.
It's also essential to ensure that your content is original, which can help you stand out from the crowd. Make it relatable and conversational. People love to read articles and information that are personal. 
This will help your audience connect with you more and interact with your content. 
This type of content will turn first-time readers into loyal customers.  
The most engaging content is one that is unique to your audience. You can use your own experiences to give your readers insights into your products. 
See how Selena Templeton does it in her post at Single Grain.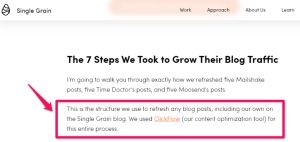 Using personal experiences, results, and storytelling will make readers feel more engaged with your blog, which will eventually help your clientele and customer base grow. 
3. Format your content for featured snippets
If you're wondering what "Featured Snippets" are, here's how Searmetrics defines it:
"Featured snippets are highlighted excerpts of text, bullets, or tables that appear at the top of a Google search results page in what is known as 'Position 0'."
Here's a real-world example when I searched for "Can I ride a bike while pregnant?"
The first step in ensuring that your content will appear in featured snippets is to format it properly. 
Avoid writing convoluted answers and large blocks of text.  
To get the best results, try a few different formatting methods including options like numbered lists or bullet points. 
The best way to format your content for featured snippets is to answer as many questions as possible about your topic. 
Write in a way that concisely reveals valuable information. Here's the best way to write answers that Google can use as a featured snippet:

As you can see from the example above, the question reads, "Is a hot fridge dangerous?" 
The answer begins right away (no beating about the bush). It's short, clever, and very useful to the person searching for that information.
If you can answer more than one question, you're likely to get featured snippets. 
By making your content easily accessible to users, Google will recognize it as a valuable resource.
Featured snippets are short, usually less than 300 characters. This makes it easier for users to read. Make sure you answer as many questions as possible. By answering multiple questions, it will make your content more appealing to the users and search engines alike.
4. Optimize your page titles and meta descriptions
Whether you are writing content for your website or selling a product, optimizing your page titles and meta descriptions can have a dramatic effect on your search engine optimization strategy. 
Your meta description appears as the first line of search engine results and has the potential to attract new customers. Here's an example: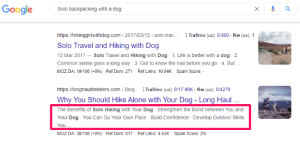 The title is more than just a catchy phrase. It's also an important element in your website's SEO strategy. 
Your meta description should be descriptive of the content on your page, and you should avoid using business jargon.
Your title should be unique and attractive.There's no set rule here. You may choose to use your blog post title as the page title when optimizing your metadata via the Yoast SEO plugin or even use a custom title: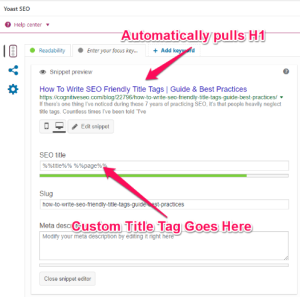 Make sure you check the length of your page title (max. 60 characters) and meta description before publishing them online.
The title of your page is extremely important. It's essential to use the right keywords in your page title and meta description. 
You want to use your primary keyword, as well as secondary keyword phrases, and avoid using your brand name or company name. 
5. Optimize your images and URLs for SEO
To boost your search engine rankings, you need to optimize your images and URLs for SEO. 
By doing so, you can get them indexed by search engines and get more organic traffic. "Optimized images speed up page loading, which increases user engagement and search engine rankings," says Isaac Justesen, a contributor from the Content Marketing Institute.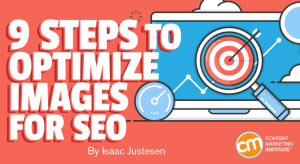 At Metigy, we always optimize the images we use on our posts and sales pages. 
Using different image optimization techniques (such as compression, converting JPG and PNG to WebP) will improve the user experience, increase page speed and clickthrough rates (CTR) of our CTA buttons.
Adding descriptive file names (title and alt text) to your images is a key component of optimizing them for SEO.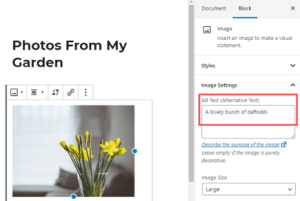 Google uses these two factors to rank your images. Choosing names that are unique and descriptive will help your pictures rank well in search results. 
A better image alt text is a description of the image, which is not visible to the reader. 
Note: Duplicated image file names are not good for SEO. They also impact the user experience negatively. Always use a unique title and alt text for your images, even if you have to reuse some of the images.
While optimizing your images and URLs for SEO can be a tedious task, it will be worth the effort. Ensure that you cover all the basics and make your pages as SEO friendly as possible.
The title of your images should be keyword-rich. While a short title will help your page load faster, it must contain your target keyword. 
6. Use internal links to pass link juice
A major way to pass link juice (aka link equity) from one page to another page is to interlink the pages.
This will allow other pages on your site to receive the value of a page with a good link profile.You can distribute link juice by using internal links to promote relevant content on your site.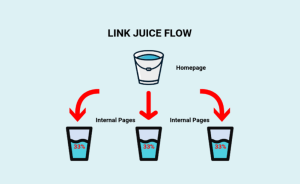 Link juice can flow from the homepage (as in the example above) to internal pages. 
But it can also flow from the internal page to the homepage and other pages. It all depends on the silo or structure of your site.
Here's how Neil Patel passes link equity from new posts to older posts that are relevant: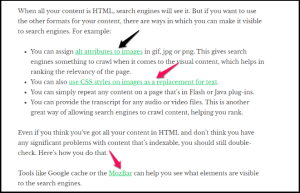 This method is effective for distributing link equity and ranking power within your site. 
Many marketers fail to take advantage of the pool of link juice concentrated on popular pages. 
When you have pages that you've built trusted and authority links to, you can pass on this link power to other pages and increase your overall ranking. 
7. Study your competitors
The truth is your competitors are implementing an SEO technique that you may not be aware of. That's why they're ranking higher than you on the organic search results pages.
Perhaps they're creating better content, building or acquiring rank-boosting inbound links you thought were impossible to even attempt.
It's time to start studying your competitors.
You can start by analyzing your competitors' websites. This practice will open your eyes to new ideas and effective content techniques you can implement right away. 
The first step is to identify between three and five competitors in your niche. You can use the Market Explorer tool in SEMrush to track major players in your niche and how much traffic they're getting per month.

You can identify your competitor's top pages (blog posts sending the most traffic) to their website by using Ahrefs' tool and navigating to the "Top Pages" tab: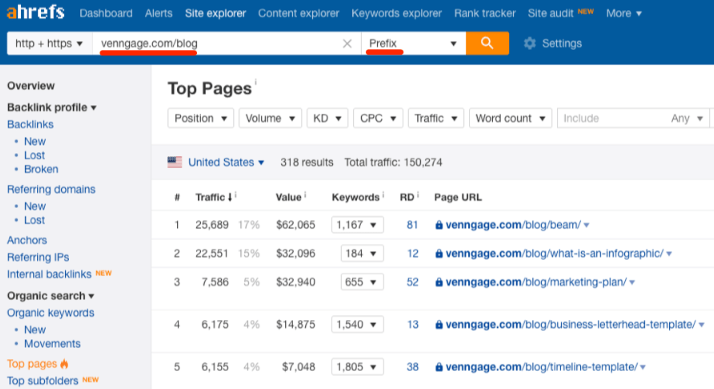 When studying your competitors, it's important to check how much traffic their top pages and keywords are generating each month, as well as their major traffic sources and traffic channels (such as paid, social, etc.)
Also, use the Keywords Explorer tool via Ahrefs or a similar SEO tool to uncover the keywords your competitors rank for that you might want to optimize for.
Powerful SEO Tips: In summary
When studying your competitors, it's important to check how much traffic their top pages and keywords are generating each month, as well as their major traffic sources and traffic channels (such as paid, social, etc.)
Also, use the Keywords Explorer tool via Ahrefs or a similar SEO tool to uncover the keywords your competitors rank for that you might want to optimize for.
Boost your Website Traffic: In summary
Traffic generation is a key component of every online marketing strategy. 
It's impossible to grow a successful business online if you 'hate' or deny the importance of web traffic.
At the end of the day, increasing online visibility boils down to three core factors:
Content, links, and user experience. 
Improving in these three key areas should be your ultimate focus this year and beyond.
Monitor your content and improve your performance with Metigy
With Metigy's AI and its ability to monitor your content performance while generating high-quality insights, you can create better content that's higher-performing for your website. Save time on analytics so you can work on the next best piece for your business. Learn more about Metigy here.