Your content strategy needs to drive traffic, get leads, and increase sales. 
These are the core business goals to pay attention to — whether you're targeting business (B2B) or communicating directly to customers (B2C).
While more than 4.4 million new posts go live across all digital platforms daily, this post is different. We wrote it with you in mind. 
You'll get the complete picture of what content strategy is, why it's important, and how some of the trusted brands are reactively creating content that drives results. If you're ready, let's dive right in with Our Content Strategy Examples
What is content strategy?
Content strategy is pretty straightforward, but businesses tend to complicate it. 
Your content strategy defines the ongoing process put in place to transform business objectives and goals (e.g. lead generation, sales conversion) into a documented plan, which uses different content formats (e.g. blog posts, videos) to drive the goals. 
According to Hootsuite, you may need to follow the 80/20 rule as illustrated — to have the right expectations of your content.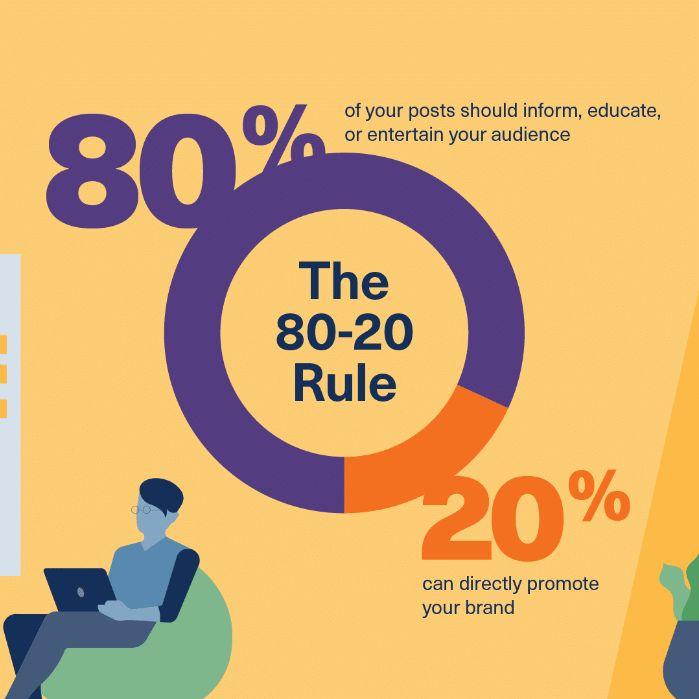 Why it's important to have a content strategy
Without a content strategy, you're engaging in what's known as 'blind marketing'.
You have no idea who your target audience is, you don't even know what keeps them up at night. When you publish content, it'll not be read, shared on social media, or linked to. Why would readers engage with it if it doesn't evoke any emotional appeal in them or address their pain points?
You can see why a content strategy is so powerful and important. 
Drive sales:

Whether you're running a blog or an online store,

a content strategy example will make your message clear and help convert visitors into buyers.
Stay organized:

As a business owner or manager, a content strategy will also help you keep your team members on the same page and will help you improve communication among your employees. Having a documented content strategy will help everyone understand and follow your content goals, which will improve communication.

Boost online visibility:

Having a content strategy is crucial for your business's online visibility. It will also help you rank higher in search engines. This is especially important if you're just starting out in content marketing or are using subject matter experts and outsourcing content creation.  
Design a content editorial calendar
One of the most effective ways to organize your content is to design a content editorial calendar. 
An editorial calendar allows you to centralize your ideas and publish them on a specific schedule. Here's a great example using Trello.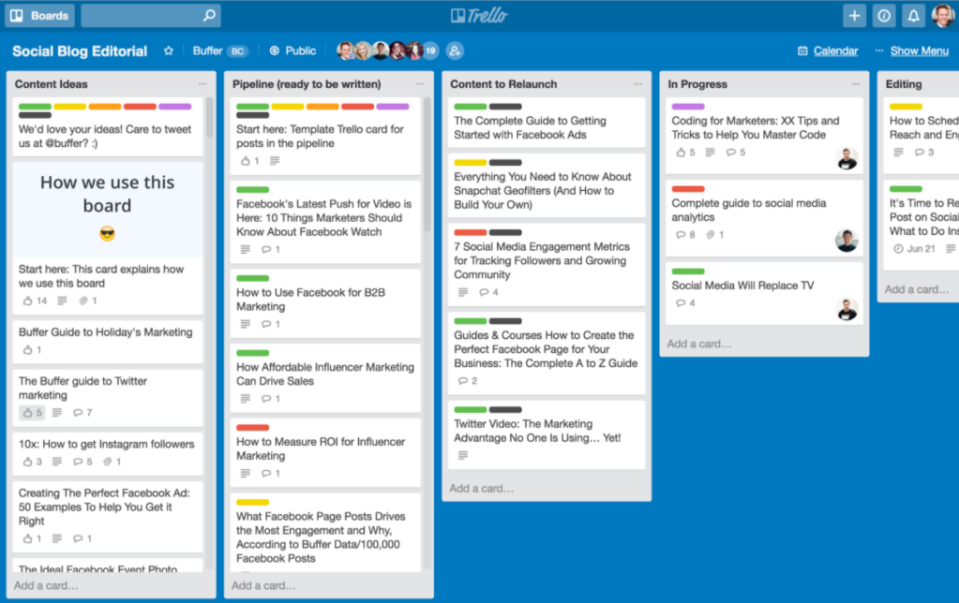 You can use it to create a publishing schedule, as well as see what content is scheduled for each stage of the production process. 
A content calendar is very useful for writers who often write about several topics.  
For a business with a larger team, you can design multiple calendars, each linked to specific products, campaign themes, SEO keywords, geographic markets, and creative approaches. 
"It doesn't have to be perfect, but it should align with the needs of your team," says Megan Conley, CEO & founder at Social Tribe.
To design a content editorial calendar, you should first conduct a content audit (i.e. use Google Analytics, Ahrefs, or/and other tools to identify your top pages, organic keywords, which pages have the highest audience retention rate, etc.).
Based on your content audit report, you can decide which topics need more engaging content in the coming weeks or months.
Remember, this is an ongoing process. And there's no need to reinvent the wheel. If you find what's working, double down. That's how to get results with your content strategy. 
4 Types of content Strategy Examples that drive business results 
To drive your content strategy and get results, you need to create a variety of content. Let's cover successful examples of content campaigns and formats you can leverage today. 
We'll also identify brands that are using each type of content campaign to grow their bottom line.
1.GoPro: Engage your audience with videos
The primary goal of your video should be to solve a problem for your target audience. Or foster a movement.
You can do this through the use of customer testimonials or product demo videos. 
GoPro is an exciting brand. Early on, the company decided to engage in high-adrenaline indoor and outdoor activities. These activities are filmed and shared on YouTube.
As a result, GoPro initiated a movement for such types of videos. And the brand grew exponentially. In just one day, over 6,000 videos were created and shared on YouTube with the 'GoPro' term in the description. 
In turn, this increased GoPro's sales to $317 million in the Q3 of 2021, a 13% growth from the previous year.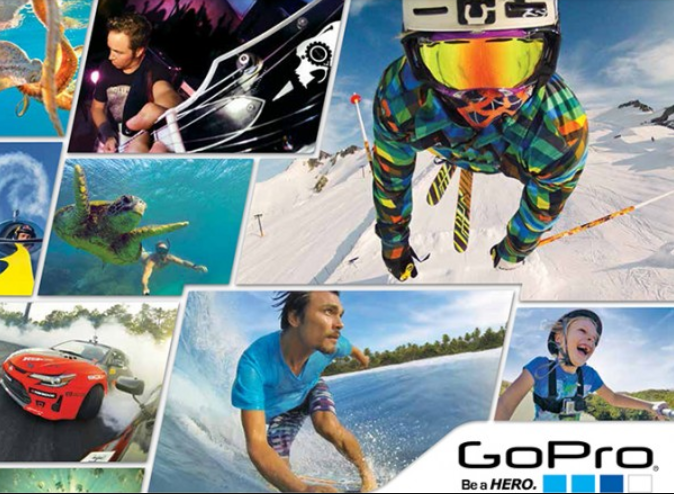 You can also make videos about your brand and show how it can improve your customers'  lives. 
Remember that people tend to lose interest in video content if they don't take action. Providing your audience with examples of what they want will engage them, and it will help them form an emotional connection with you. If you don't know what your audience wants, ask them! 
Whether through a poll card or a comment on the video, make sure to ask them what they would like to hear about. 
It's always a good idea to research your audience on forums, Facebook groups, or any community where they're most active. You'll learn a lot about your audience and what they desperately want to know. 
2. Parachute: Boost social interaction with user-generated content (UGC)
In a survey conducted by AdWeek, 85% of people agree that UGC is more influential than content created by brands directly.
Furthermore, it's unique and memorable, and cannot be replicated by competitors. User-generated content includes photos, videos, memes, posts, infographics, audio clips, etc., which are voluntarily created by unpaid contributors.
Parachute, a direct-to-consumer bedding and bath brand encourages its audience to get involved in what the company is doing.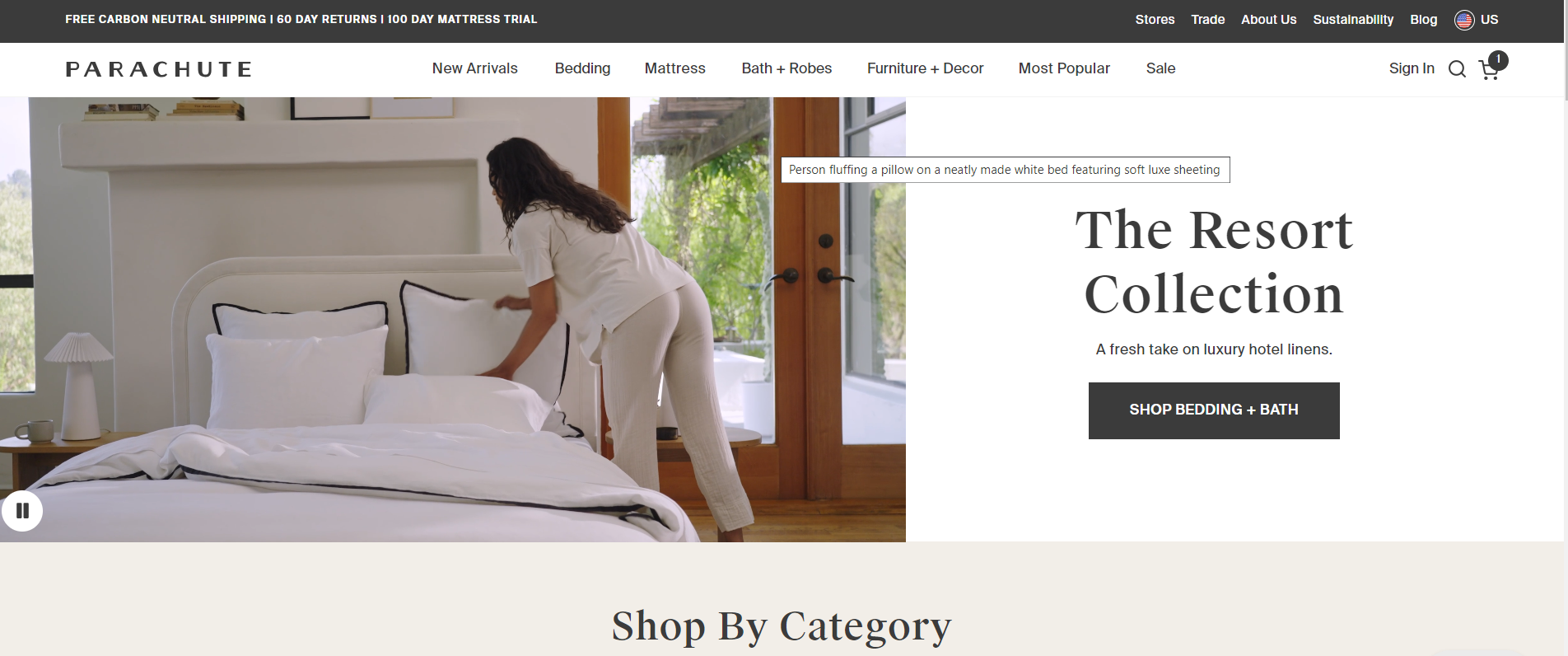 Users were asked to participate on social media using the hashtag #MyParachuteHome in any post they feature the company's products. 
The company then takes it a step further — repurposes these customers' photos in its promotional content.
Parachute uses these repurposed UGC in retargeting ads. The ads (see the one on the right side below) generated a 35% higher CTR and lowered the CPC by 60%.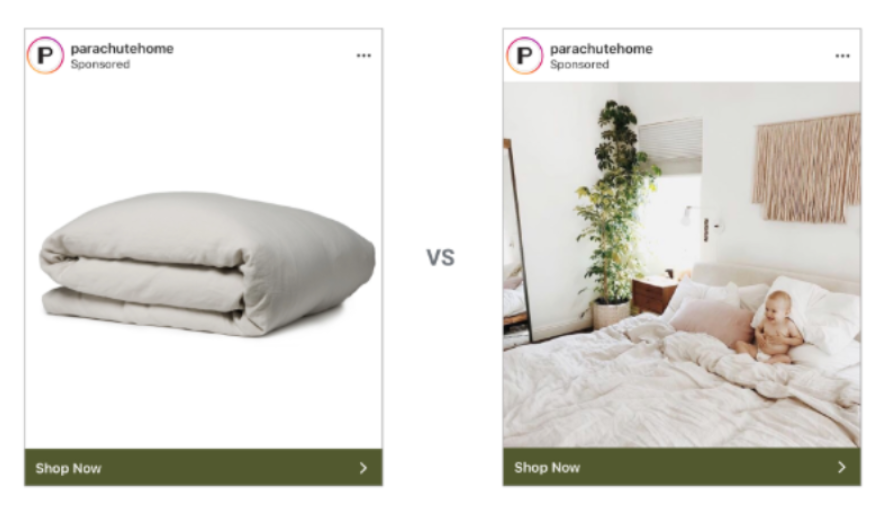 User-generated content can give your audience a voice and help you understand their needs and interests. It is also more relatable and human compared to branded content. 
For example, it is much more credible than the company's own content. As the Internet is flooded with personal opinions, it can give audiences a voice and help boost brand loyalty.
3. Ramit Sethi: Capture email leads with lead magnets
A lead magnet is a piece of content that is useful to a specific audience in exchange for the reader's contact information. 
It could be an eBook, white paper, checklist, quiz, or other types of resource. It should solve a particular problem or offer a unique service or benefit. 
The key is to find a way to make it helpful to your prospects. That way, they will feel obligated to give you their name and email address.
Ramit Sethi, the author and founder of I will teach you to be rich is smart enough to go the unorthodox way. 
Instead of using eBooks or video as a lead magnet, which are great by the way, he uses an interesting quiz.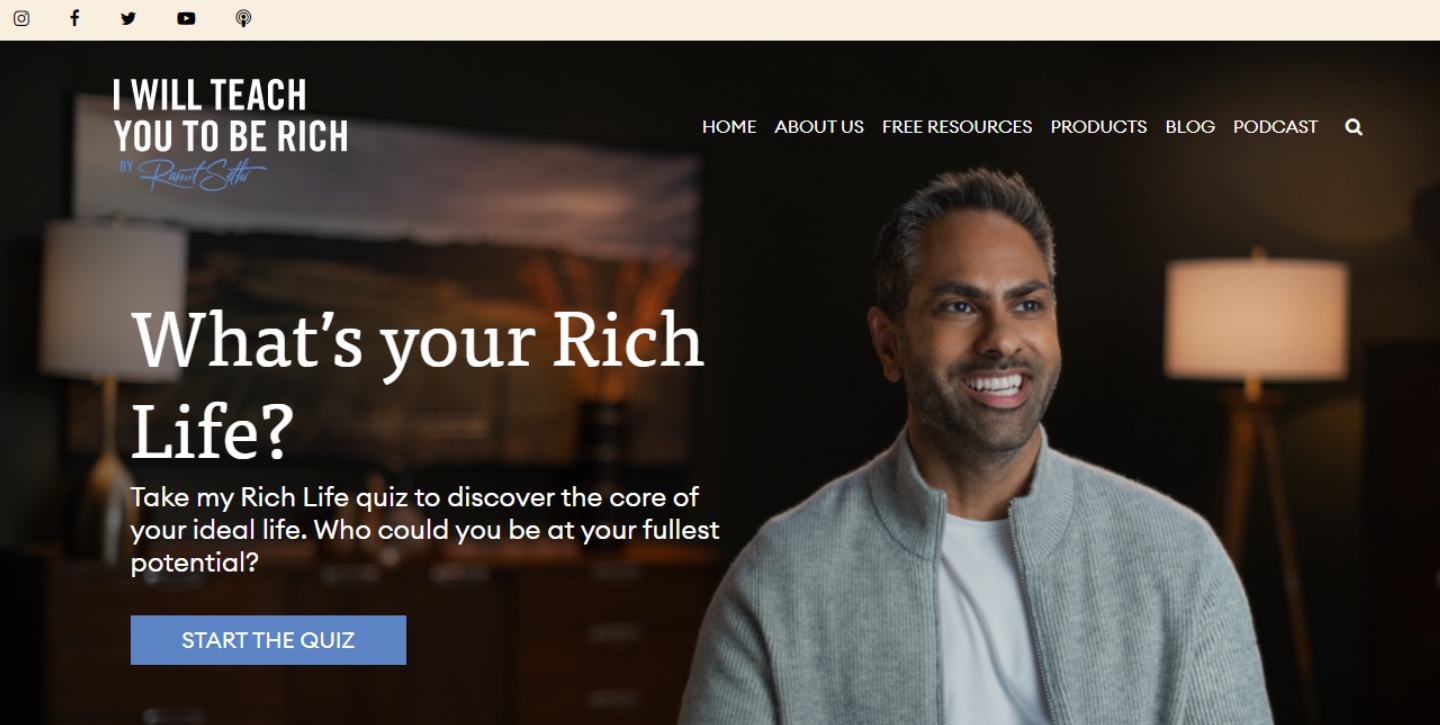 The quiz walks the user through the steps of discovering the core of their Rich Life. At the end of the quiz, you can compute your result:

Next, Ramit subtly asks for the quiz taker's email address — so that they can get the full report via email.

His email list has grown to more than 100,000 subscribers in the past few years.
Using a lead magnet is a great way to increase your conversion rates. One of the most common ways to increase sales is by offering a free trial, especially if you're a software company. 
Shopify, GetResponse, and other software companies use the 14 or 30-day free trial strategy to get leads and subsequently customers.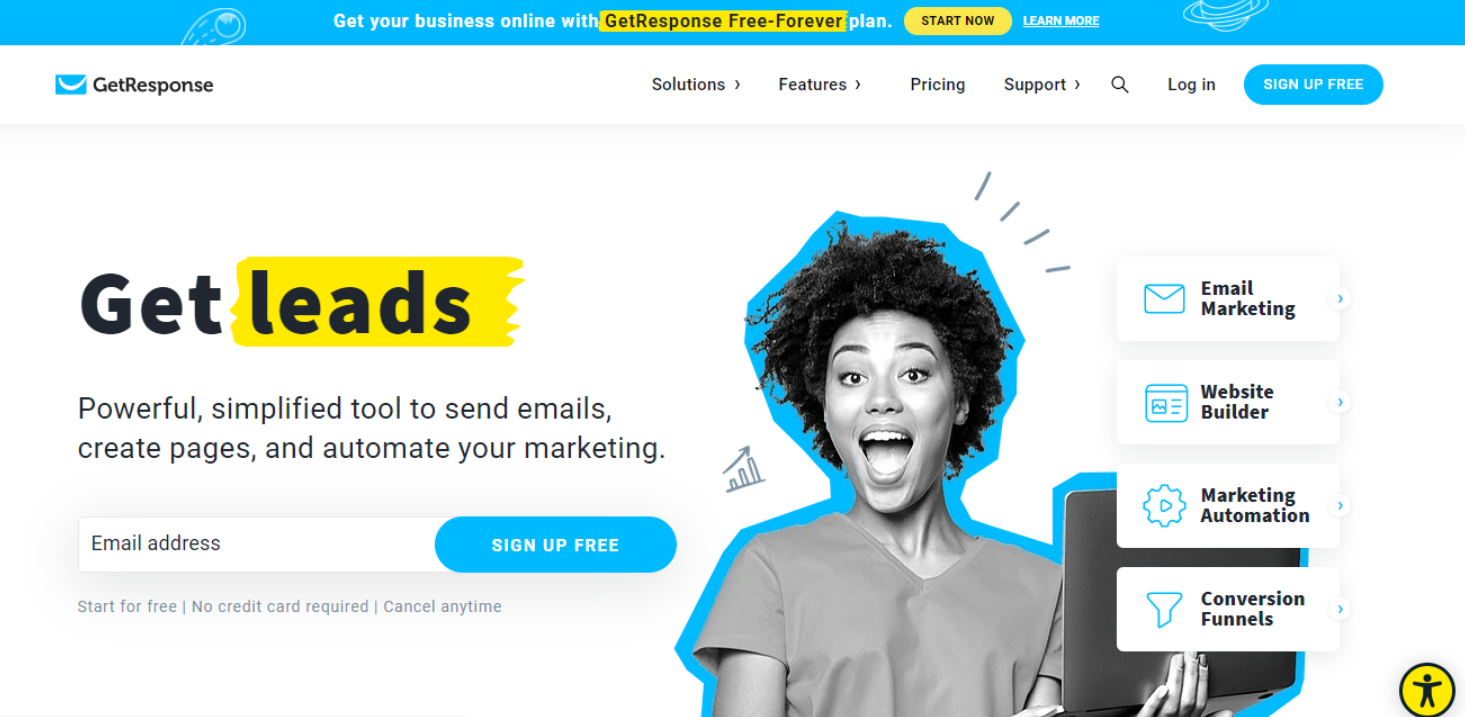 While these are not the most-effective ways to convert traffic, they do help to make your landing page more persuasive. 
A personalized trial or free sample will increase your chances of converting a visitor into a paying client.
4. Neil Patel Digital: Using case studies to increase sales
Using case studies is a proven way to increase sales. 
They are read by managers and buyers of products and services and are a great way to show off a product or service. 
Neil Patel, a sales coach, used case studies to boost his deal-closing ratio by 70%, and his overall sales grew by 185%. He gets results by sharing what he's achieved for his clients. Here's an example: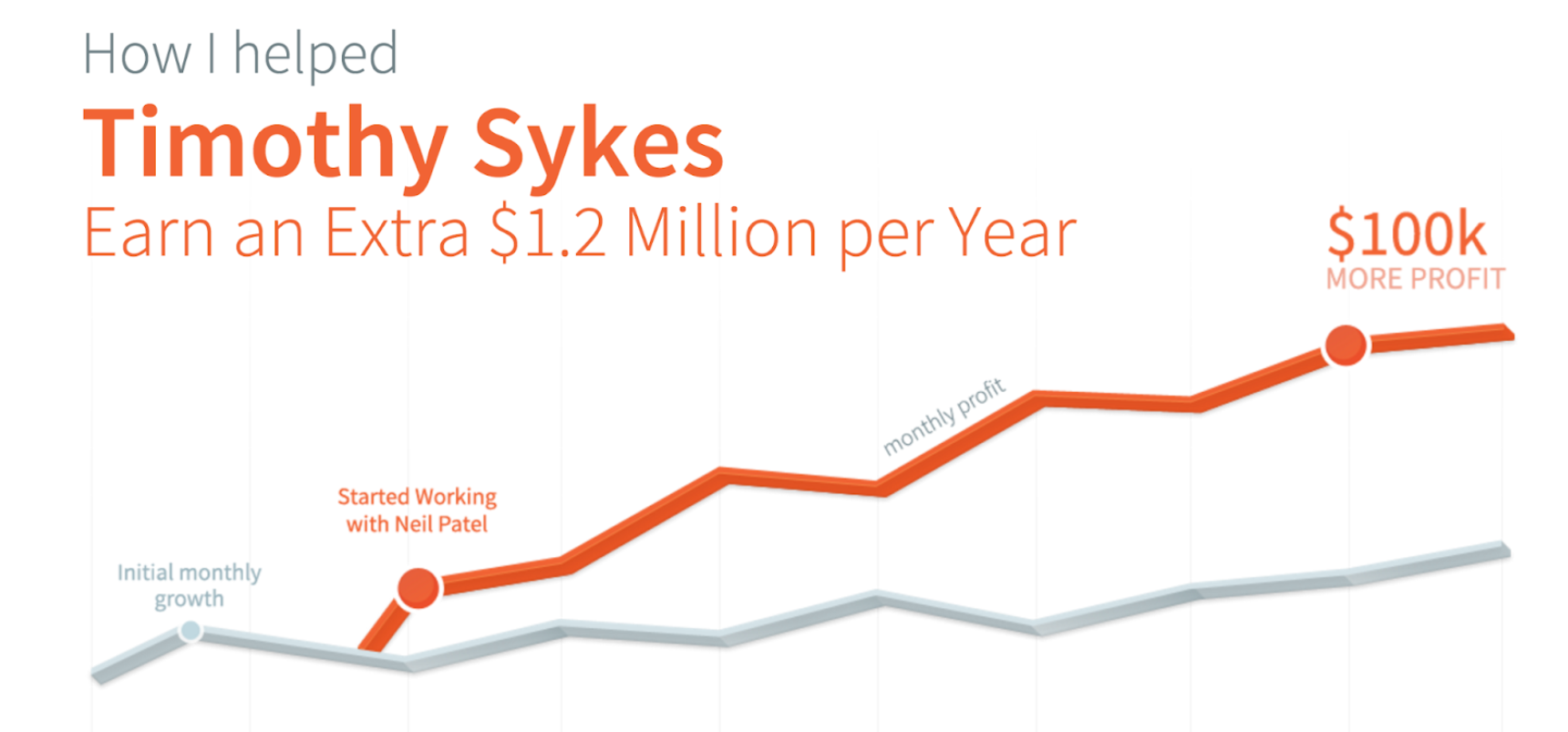 However, before writing a case study, you should carefully research the potential target audience.
Choose a case study that shows how a customer has used your product and how it has improved their business. 
At Metigy, we often share success stories and case studies of how our customers use our solutions to achieve results, like below: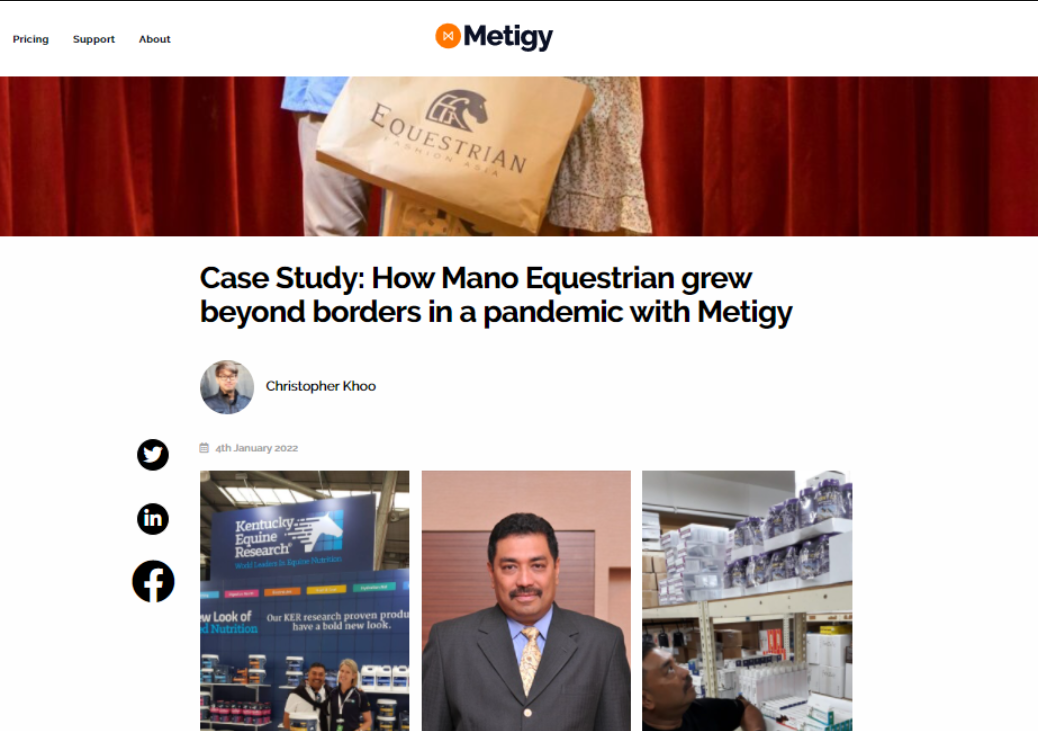 If the case study focuses on a specific customer, be sure to highlight how that particular customer has benefited from the solution. 
Using case studies to increase sales will help you build credibility in your target market. 
By providing proof to prospective buyers of your product, you'll be able to generate new leads and improve your bottom line.
In Summary: Content strategy 
You can't put a price on customer feedback. So design your content strategy to encourage interaction with your audience.
Experiment with surveys, emails, or simply create something like an interesting quiz that encourages your audience to participate.
Once you're armed with honest feedback from your target audience, you can use the insights to redefine your content strategy.