Before you buy a watch that's advertised as waterproof, do you take the brand for its word? Or do you look for reviews from other customers to see if it actually is waterproof? Unless it's a reputable brand that's been known to produce high-quality, waterproof watches, you'd do the latter.
As consumers, we know that a brand will say anything to sell its products. Its opinions and claims are biased and therefore, may not be completely authentic. So we look to other consumers for proof that what the brand is saying is true before we commit to spending our money.
In fact, 64% of customers say they actively seek out reviews before they decide on a purchase.FGurthermore, 51% of consumers find user generated content (UGC) more authentic than brand-created content, while 50% consider it unbiased.
Combined with the fact that the increasing use of adblockers is preventing brands from reaching their target audience, UGC is all the more important.
You may already have a ton of reviews, but that's not where it should end. UGC could do so much more for your business, if you know how to use it right.
What are the benefits of user-generated content?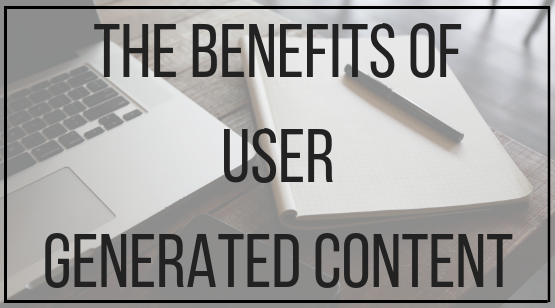 It can help with your SEO: Search queries are becoming more conversational, instead of keyword-based, especially on mobile. Websites with natural language will rank higher for semantic searches, thanks to including user-generated content. If you're using structured data to show your reviews, they can give you added search visibility as they appear as rich snippets in search results.
Increased social media reach and growth: A user-generated content campaign in social media will generate increased interaction, which will result in growth in social traffic, reach, brand awareness, and, of course, more followers and social engagement.
You get unique content from your user's point of view: Content created by users will be quite different to what you produce for your brand. That alone makes it interesting content, but it also gives you key insights on who your most loyal customers are. These insights can help you inform your marketing strategies to deliver more personalised content and ads.
Check out the following four ways you can include user generated content in your marketing mix that will instantly improve your marketing results.
1 – Launch a Hashtag Contests to Drive Brand Visibility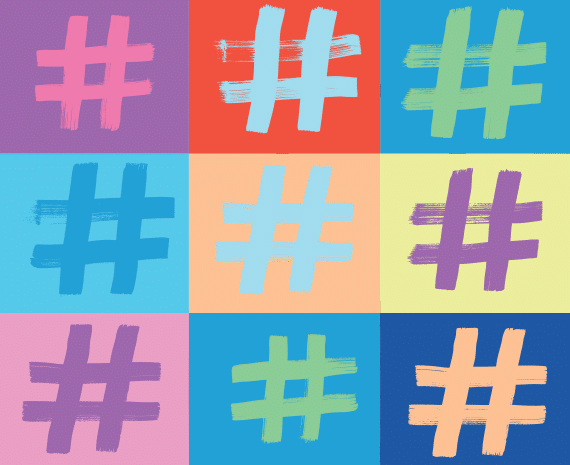 User generated content is highly effective for driving brand awareness as every person who creates content about your brand is promoting you within their network. 48% of consumers say that UGC helps them discover new products. And 34% said that an influencer's post helped them discover a new brand.
So you should aim to increase UGC for your brand if you want to expand your reach and drive higher visibility. One of the best ways to do this is by launching a hashtag contest to encourage more people to create content about your brand.
Here's how you can get started:
Come up with a unique hashtag that's relevant to your brand, products, or events.
Decide on a reward. You could have a few attractive prizes in place for a handful of winners, for instance. Your reward could also be simple and immaterial, such as giving a shout-out to your participants.
Post a picture or video on social media along with instructions and prompts to use the hashtag.
For example, Chewy, the pet supply brand, launched a Halloween costume contest and asked customers to post their pet's Halloween look using the hashtag #HairyNotSoScary
The hashtag has since been used over 6000 times.
2 – Repost Customer Content to Build Better Connections
Social media gives you an excellent platform to interact with your audience and strengthen your connection with them. This is crucial because when customers feel connected to a brand, 76% are more likely to choose it over a competitor and 68% are more likely to recommend it to a friend.
One of the best ways to do this is by reposting your customer-created content and putting your customers in the spotlight. In fact, 39% of consumers say they want to see brands inviting user-generated content to feel more connected to them.
So show your customers that you appreciate them by liking, engaging with, and reposting their content (with permission). This not only makes them feel valued, but also shows prospects that you care about your customers.
Here's how you can pull this off:
Ask your customers to share their stories, pictures, and videos by tagging you or using a branded hashtag. You could give out this prompt in your social posts, Stories, website, and even marketing collateral.
Monitor those tags, mentions, and hashtags and choose the ones you want to repost.
Connect with the content creator in the comments or DM them asking them for permission to repost.
Share it with your social media followers via feed posts or Stories. Some brands even compile their UGC into a separate Instagram Highlight so it's not gone forever.
For instance, Bondi Sands, the Australian beauty brand has a Reviews Highlight, where they compile brand mentions from Twitter.
3 – Share Customer Images as Social Proof in Product Pages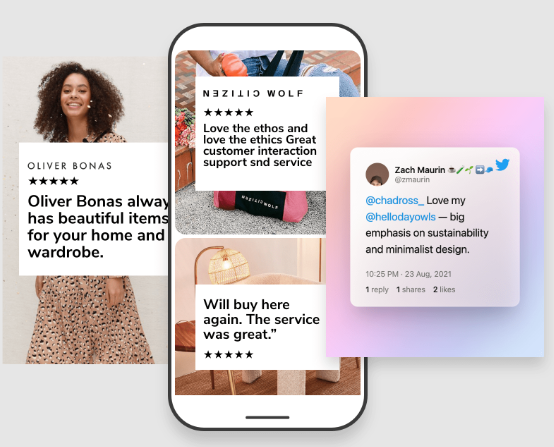 UGC may be great for engaging your fans on social media, but you should also use it where it matters the most – on your product pages. Seeing other customers' experiences could make a compelling case for your products, and convince prospects to complete their purchase, thus increasing your conversions.
You've probably added customer reviews to your product pages already, but you could go one step further by adding customer images for visual social proof. Photos from your customers will give your prospects visual proof of the product quality and dimensions so they can put it in context and decide if they should buy it.
In fact, Vanity Planet, a beauty and health product store, saw a 24% increase in checkouts after adding an Instagram gallery to one of their most popular products.
If you have a Shopify store, you can use plugins like Covet.pics to invite customers to upload their photos to your site. You can also assign a unique hashtag for each product and invite customers to use it for a chance to be featured.
Here's how Black Milk Clothing does it.
4 – Add Credibility to Your Display Ads with Customer Photos and Reviews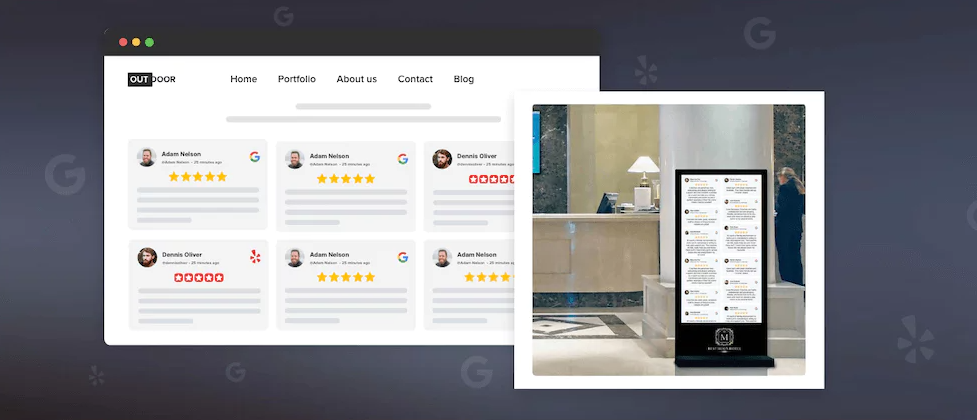 User-generated content can also help you attract new prospects and instantly pique their interest even if they've never heard of your brand before. The key is to target a highly relevant audience with display ads that highlight UGC such as customer photos, reviews, and star ratings.
Reviews and star ratings add more credibility to the ad and give people more reason to trust your brand. Customer photos are more relatable than promotional catalogue shots and will be more convincing than your usual ads.
Use a platform like Yotpo to turn your customer photos and reviews into high-converting ads on social media. Check out this example from PuraVida Bracelets.
Get More Out of UGC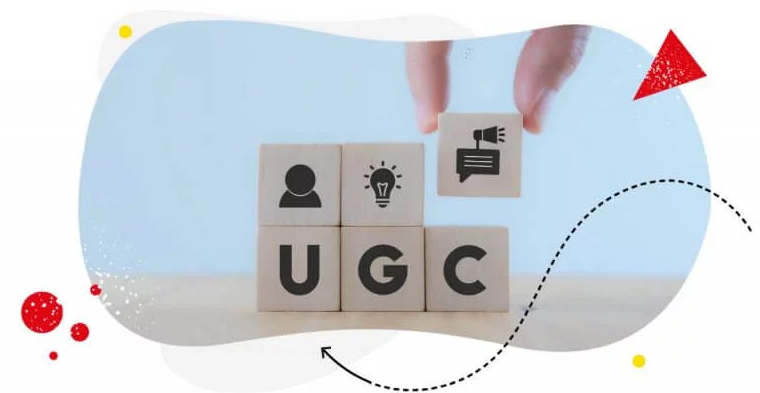 UGC can be an invaluable tool for your business if you use it correctly. Besides helping you win the trust of your target audience, it can also help you strengthen your brand-customer relationships. Start implementing the ideas above to get more out of your user-generated content instantly.
Have you used any user generated content in your marketing mix? What kind of results did you get? Let us know in the comments section below.