Crafting quality blog content is time-consuming.
And once you're finished, it's time to promote it on social. Social media is a crucial content amplifier, but do you have to craft tonnes of new content to keep your social audience happy?
Actually, no. Done correctly, you can recycle your existing blog content and create lots of great social posts, saving you a bunch of time.
This quick guide will show you repurposing your quality blog content for social can speed up your content workflow.
Let's go.
What are the benefits of repurposing content?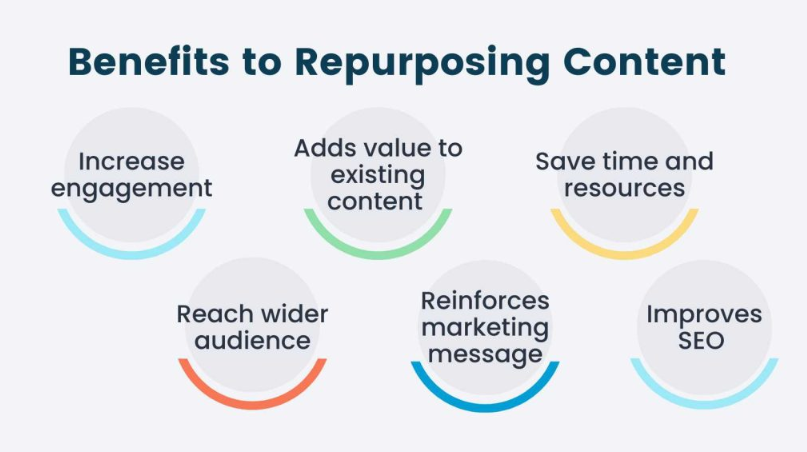 Repurposing content for social media can have several key benefits to your marketing results.
Better SEO: Repurposing content generates new incoming link opportunities from new people exposed to your content. Also social signals can have a limited impact on SEO results.
New audiences: When you repurpose and adapt a piece of content for different mediums, you're reaching out to new audiences where they are.
Message reinforcement: An old marketing adage says that repetition can be an essential communication feature that can allow you to cement an idea around your brand in your audience. If you want to be perceived as an expert in something, demonstrating that expertise with content can help you build that perception.
Authority reinforcement: By being present in different places around the same topic, you can raise your profile in your industry.
General tips for repurposing content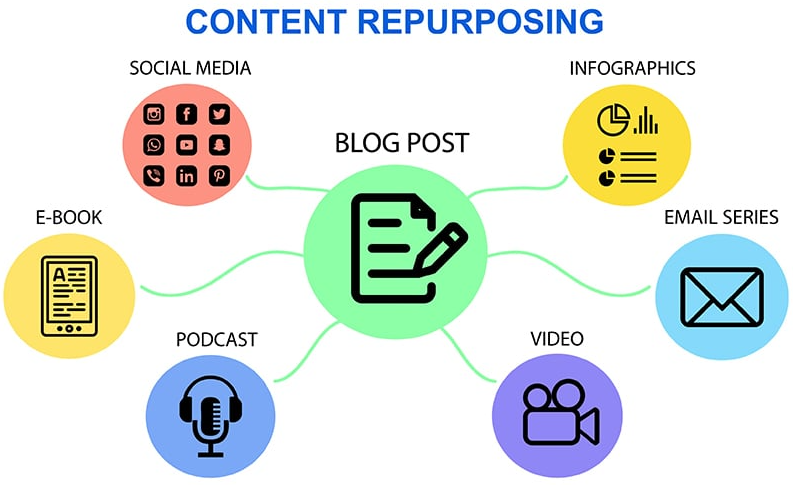 Let's start with a few general tips. These apply to all social media platforms, so use these strategies and get repurposing that content
Understand the concept of micro-content
The bar for "great" content on social media is not necessarily lower on social, but it is different. Great content can include a snap of you in your office or a post with just one take-away from your blog post. So if you have an article with 10 top tips, that's at least 10 social posts.
Think small, helpful and frequent with your social content.
Related: Check out how content marketing king Gary Vaynerchuk creates 30+ pieces of micro content from one pillar piece of content.
Make a short video promoting your post
This is one of the best ways to promote your blog content on all social platforms. Focus on the main benefits of the post you're promoting. To make it work across all platforms keep the video under one minute. Of course, if you have the time and resources you can follow each social platform's guidelines and make longer videos (for example on LinkedIn).
Post behind-the-scenes footage
People love behind-the-scenes footage. Add some pics of your creative process, drafting, editing, storyboarding – if you make handwritten notes share these. Even share the workspaces you love to work from. This footage can make your followers feel included in the process and more likely to engage with your profile.
Example: Wistia do an amazing job of showing their behind the scenes process.
Find similar content to your post and like it
Whether it's Insta brands, Facebook and LinkedIn groups, or Twitter hashtags, you need to find and like other people's content. This will encourage those users to like and share your content in return. Only post to relevant groups where you are genuinely trying to provide a valuable resource.
Link to your most recent post in your bio with a CTA
This may seem a bit of a hassle. But what you have to remember is that your profile will appear in many different searches every day. You want those users to find your latest content. So link to your latest post in your bio and mention this content in videos and stories to get people to click on it. This will work better than a generic link and also keeps your social efforts highly targeted.
Use text overlays in your images
Social media users scroll and swipe very quickly through the mountains of content that's produced. You need to reinforce your image content with catchy text overlays.
Tool: Canva is a great free image editing tool that you can use with no prior design experience and still create amazing graphics. There are plenty of great social post templates to get you started. Here are some example created in Canva:
Platform-specific tips and tricks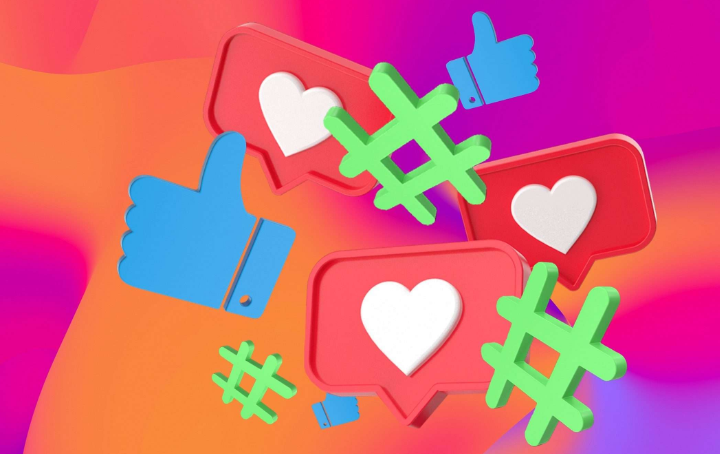 Each social media platform is slightly different. Here are some platform-specific tips:
Instagram
Instagram is a highly visual platform, so to promote your blog posts you are going to have to focus on imagery.
One idea that performs very well is using pictures of quotes and text overlays. Neil Patel often puts this to good use:
Instagram stories make it easy to get interactive. To promote your post try adding features like a question, or a poll.
Facebook
Visual content also works well on Facebook, but you also have the chance to write some text. Use this opportunity to write a CTA to click through to your blog post. Give the reader an incentive to do this, such as something new they will learn, a download, or a giveaway. Reinforce this CTA with text in your imagery.
Another tip is to make use of Facebook stories. Why? Because the great news is that you can simply cross-post your stories from Instagram without having to create new content.
Related: 7 Ways Brands Take Advantage of Facebook Stories
Twitter
Try sharing interesting quotes or statistics from your blog post. You can also try phrasing your tweet as a question.
One top tip is to make your tweets stand out with Twitter cards.
You can add metadata to your blog post and then your tweet can have a summary with a large image. This can help your tweet stand out from the crowd like this tweet below:
Just add the template code below to your blog posts before sharing it on Twitter.
Code template:
<meta name="twitter:card" content="summary_large_image">

<meta name="twitter:site" content="@yourwebsite">

<meta name="twitter:creator" content="@yourtwitterhandle">

<meta name="twitter:title" content="your title">

<meta name="twitter:description" content="your description.">

<meta name="twitter:image" content="https://where-your-image-is-hosted/name.jpg">
LinkedIn
LinkedIn is the platform where long-form textual content works the best. Including a good portion of your blog post as a standalone post on LinkedIn will give users a flavor of what is to come. Strike a balance between giving them enough useful content and still leaving some interesting bits to be read on your blogs.
If you want to keep it visual, try breaking down your posts and posting a few takeaways to SlideShare. Here's an example from Gary Vaynerchuk:
Get organized with an all-in-one social dashboard
Implementing all these strategies across all your social profiles may seem overwhelming. That's why if you're serious about social you need an all-in-one social dashboard that can just do everything.
Platforms like Metigy help you automate a lot of your most tedious workflows, meaning you can keep focused on what matters.
Learn how Metigy can help you promote your blog content on social media.