Should your company have its own business blog is one of those questions that comes up again and again. The main reasons for not having one are usually things like I don't know what to talk about or I don't have time – don't worry, Metigy will soon have you covered on both of those.
It's understandable that business owners would be nervous about the investment of time and money required by running a blog. But marketers who have prioritized blogging are 13x more likely to enjoy positive ROI
The following are benefits to starting your first business blog, why it's important for your success and how to set it up.
Why should you create your own business blog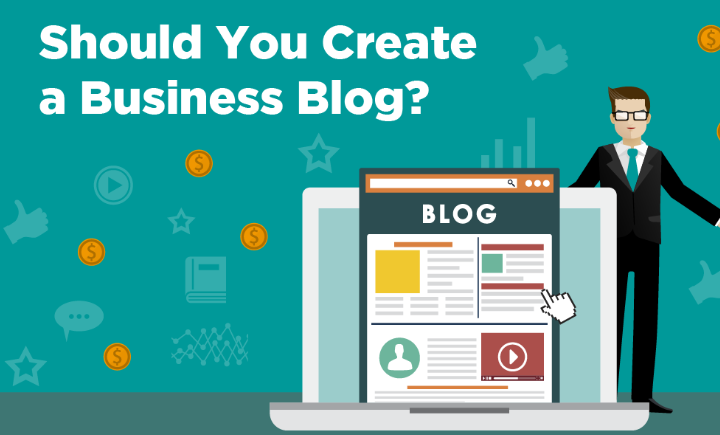 The primary reasons for your own business blog
The first thing most people will tell you is that it is great for SEO – Search Engine Optimisation. Which is very true and one of the two biggest benefits. What that means is that the content you are creating content that is being associated with things users are searching for on Google and other search platforms (including Facebook and LinkedIn). If you write about your product, or something related to it, that starts to associate you with that topic. This is a whole other topic of discussion that we will cover, but it will also naturally be a side-effect of everything you are doing below.
The second thing is that it can provide an additional – or primary – way to collect user emails addresses. This is important because email addresses let you have a one-to-one relationship with your subscribers, rather than having to go through a platform such as Facebook. What does that mean? When you write a new post, you can send out an email to your followers and know who clicked and open it. You can use that information to help you target better and better your content and work on selling into those users that seem most likely to convert.
An example of the effectiveness of email is that the average order value from email marketing is at least three times higher than that of social media.
More types of content
A business blog allows you to have other content types, but in particular, long-form content. What do I mean by that? Well, content that is more than a social media post in length. The exact length varies according to what you are writing about and what you are trying to achieve. For example, a product update might be 500 words long as it's news pieces highlighting something you have done. Another piece might be 2000 words long because it is about a topic of interest you are knowledgeable on – Neil Patel is a master at this type of content.
It also allows you to be more targeted in your activities. What that means is that you can, using that long-form content, write in more detail about topics. That helps you create a few, really great posts about a topic and helps you become an authority in your niche. This is contrary to Social Media, where you tend to write a lot of small posts continually to cover a topic.
Note: Obviously as part of the Metigy marketing objectives we will help and encourage you to promote your blog posts through social media as they are a valuable channel for promoting your content.
Give them more depth and show your knowledge
Demonstrate your business expertise by really going into detail about a topic and discussing the latest innovations, changes, news, etc in your industry/product space. This is important as you will help to build trust with your readers. But, also, you will start to become an authority from the point of SEO – see what I mean about these naturally contributing to your SEO score?
Blog content also provides a way for readers to get more in-depth content about your business. For example, you might want to talk about how your products are more environmentally friendly. Or how you, as a business, support local communities as well as showing examples of how you are involved in those communities. You could even give behind the scenes looks at the team that supports you.
Promote and Collaborate
Then we get onto other content such as promotions. Again, this is something that should be heavily supported by social media, but allow you to go into more detail about a promotion you have on and provide more content that you can drive through social media, all driving back to your site.
Something you may also have heard about is content collaboration. This is where you get guest writers involved in your site. They might write a whole article for you or work with you to write about a topic. Both of these really help your site SEO again, especially as the other writer will generally be promoting the content through their networks.
On a side note to content collaboration, you might also want to write content for other people's blogs. This sounds counterintuitive, but writing on another blog is a great way to get backlinks to your site. It also helps build awareness with a different audience. Think about that for a second. That's a whole new audience and all you had to do is spend a few hours writing a blog. And guess what… This is more content that is helping to boost your SEO again.
Questions to ask yourself about starting your business blog
Let's first start by asking some important questions about what the blog is for and your ability to set it up and maintain it. Trust me, this is important to think about as a self-hosted blog requires maintenance and can take a long time to fix if it breaks or gets hacked.
Will it be just a blog or include other pages?
What I mean by that is will it be a full site or standalone blog only. A blog only is generally classed as a publication (read: magazine). This is where services like Medium can be good.
A full site would include your company about pages, contacts forms, product information, etc. The Metigy website is an example of a full site. You might already have a site as well, so you could look to add the blog to that.
If you have an existing site, most popular self-hosted CMS solutions such as WordPress, Joomla and Sitecore have a blog capability. Likewise, most online CMS solutions like Squarespace, Wix and WordPress have the ability to run a blog/newsroom within your site.
What kind of content will we include in our business blog?
This isn't a trick question. When blogs originally came about, it was to talk about things you were doing. But it has become a platform for sharing all kinds of content that let people get inside your business.
That content can be events, speeches, appearances, company news, product launches. The list goes on. Why is it so popular? Because the format is just so right for opening up. And that is why news sites are trying to be more like blogs in the way they work.
What skills do I have available to help set the site up and how much time?
This comes down to what level of web development/IT and design you have. If you are great at design but struggle with using computers beyond drawing applications and word processing, then you'll be wanting something that allows you to create using a simple drag and drop interface. Solutions for this are sites like wix.com and Squarespace
Likewise, if you have IT Skills (such as web development), but don't like design, then you'll probably be comfortable with something more involved that has a wide selection of templates. The standout example here is WordPress that has the largest ecosystem out there and is incredibly customisable. The advantage of this kind of system is how flexible it is, letting you add almost anything you want. And critically, you can also use your own domain name.
If you want to do something quickly because you don't have a lot of time, then sites like Blogger, Tumblr and WordPress.com (not to be confused with the self-hosted version which is wordpress.org) are a good place to look. They allow you to get started quickly with minimal fuss and minimal maintenance as they look after everything for you – except writing content. They also allow you to customise your domain slightly.
And finally, if you just want to write, and are not bothered about customisation, then services like Medium are perfect. They let you get started with minimum fuss and expose your content to a large audience. But they aren't very customizable beyond setting your channel name.
Are there any other considerations
Yes. The most obvious of which is "Do I do it myself or get someone to set it up for me?". That is something only you can answer. But, you'll probably find some good references through your network of contacts, so be sure to ask.
What next?
Start by asking yourself what you want to get from your blog. How much time you can put into it and how much effort and time you can put into setting it up.
Then write yourself a content plan – be realistic about how much you can put into the content. But we'll cover that in another article.
Once you've got it set up, be sure to connect it to Metigy so we can start to help you with boosting your new blog content through social media and the ads channels.