One of the things Metigy identified is that users like to know they are winning at their market. So, we created our Achievements and Milestones system to help you see how well you are doing. As time goes on, you will unlock more and more of them which will reflect your progress using Metigy.
Achievements
An Achievement is the accomplishment of a goal. That goal can be an event that occurs only once, such as completing the brand profile, to content success items such as getting a like on all content in a month.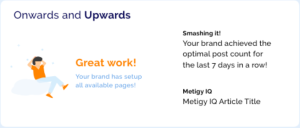 Marketing Achievement Example Card
The achievements are designed to be small to medium wins. They then add up to unlock the big wins known as Milestones. Then there are the big wins, which are called milestones.
Milestones
This is a significant point in your marketing development. You have achieved something great! Or have achieved something that is a big step in the right direction.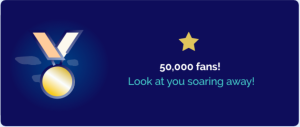 Marketing Milestone Award Card
Examples of reaching a milestone include getting a certain number of fans. Or achieving a social action (like, share or comment for example) on every post for a month.
They are designed to be tougher but when you unlock one, it will make you feel great to have reached it!
Note: If you sign up and have already reached some of these milestones, then they are added to your completed list, but not shown in the interface
What Next for Achievements and Milestones
One of our goals for the achievements and milestones is to help our customers feel like they are making progress. As part of that, we will be tightly integrating it with the Metigy IQ Program. The goal for us is to help you become a better marketer!
We also want to make sure that every award is useful and beneficial to you, our customers. So if you ever feel like something was too easy or too hard, let us know. And if there's more you'd like to see added, we want to know that too!
Metigy AI: Unlock your marketing potential!