A staggering 30 million companies are now listed on LinkedIn. And that means your company too needs to have a presence on the favorite social network of the business world.
But how do you create a LinkedIn company page? And, more importantly, how can you optimize it to boost your company's reach so you can attract top candidates?
This succinct guide offers tips on how you can create and optimize your LinkedIn company page.
Let's get started!
Why do you need a LinkedIn company page?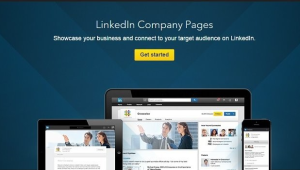 As LinkedIn is by far the world of business' favorite social media platform, creating a company page allows you to boost your social engagement. Strategic posts can raise brand awareness, and an optimized company page can help attract top candidates.
Here are the main advantages of having a LinkedIn company page:
Brand awareness: You can use LinkedIn company pages to distribute content and announce new services. Having a LinkedIn company page will also give you a boost in visibility on the top professional social network. In terms of branding, having a company page will also allow you to align all your employees under a single brand name, as they link the employer on the experience listed on their profiles with your company page.

Social reach: A company page lets you engage and interact with your audience. For certain types of companies, like B2B companies, or if you offer services mainly to professionals, having a presence in LinkedIn might make more sense than being in Facebook.

Attracting talented candidates: It's not just the benefit of publishing job openings in the biggest professional social media network. Having a LinkedIn company page will allow you to present yourself as an interesting place to work, attracting top talent that will want to work with you.
How to create a LinkedIn company page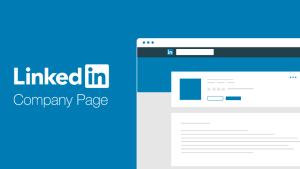 Creating a company page is straightforward. Go to your LinkedIn account, and click on the Work button. At the bottom of this menu, click Create a Company Page:
Next, select the type of business that applies to you. You can choose between Small or Medium to large options, depending on the number of employees your company has. (We will return to Showcase pages later on.)
Here, fill in the boxes, including the name of your company, the URL you want other LinkedIn users to use to find your company on LinkedIn, and your external website link.
Select your industry as well as company size and type from the drop-down menus.
Add your company logo (300 x 300px is the recommended size).
Finally, add your tagline. The character limit is around 180 characters including spaces, so keep it concise.
Once you have entered the information, click Create page. Congrats! You have just created your first LinkedIn company page. But we are just getting started.
After creating a page, you will be taken to the page's dashboard. Here, you can customize the look and feel of the page.
At the top of the dashboard, you will find a list of actions to complete, so make sure you finish all those before moving on. You would have already added a website URL and logo in the previous step, so now continue by adding a company description by clicking Add description:
You have up to 2000 characters to describe your company. This description should be concise and include your company vision, the products you sell and why people should engage with your brand.
Additionally, you will be able to add the year the company was founded and up to 20 specialties. Specialties are your area of products and services and could include categories such as cloud computing, e-commerce and retail.
Next, add the locations of business (check out of guide on how to do this for Google My Business) by clicking Add location.
Now, when users look at your company page, they will be able to view your location on the map.
Next, add a custom button by clicking Add button.
Think of it as a CTA, prompting your page visitors to take the desired action. For example, if you want to direct your page visitors to your company website, choose Visit website and add the URL:
Head back to the main dashboard to add a cover image (recommended size: 1,128px x 191px).
You've covered your basics!
Now let's implement a few tips to make your company page stand out from the crowd.
Tips for optimizing LinkedIn company page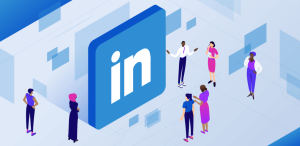 The following tips will help you take your company page to the next level:
1. Add featured hashtags
Did you know you can add up to 3 featured hashtags? Similarly to using unique branded hashtags on Twitter and Instagram, you can use featured hashtags on LinkedIn. Users can share content with these hashtags, and you can post content with these hashtags in your feed.
2. Post content to boost engagement
As on any social media platform, content is the key to boosting your reach. Short, easy-to-digest videos work great, and Teleperformance is one brand getting this right.
3. Create a jobs section
Creating a jobs section has a lot of benefits for your company page. By posting jobs on LinkedIn, you are boosting page activity significantly because applicants will research your company by looking at your page. Further, it's a chance for you to showcase your company to a huge number of new users. Finally, it's a great way to attract top talent. Deloitte offers candidates a wealth of information, including stories from successful applicants.
4. Create showcase pages
Showcase pages are versions of company pages. They are great if you have a group of products or separate brand identity within your main brand. One example of such structure is Adobe.
Adobe is the main brand, but it mainly targets enterprise-level consumers. Its Creative Cloud product targets young creative professionals. If you go to Adobe's LinkedIn page, you will see the following listed affiliated pages:
These are all examples of showcase pages. Notice that the About section is limited to a brief overview and a link to the corresponding website:
To create a Showcase page, click on the work tab from your main dashboard, and then Create Company Page again. This time, click Showcase page.
Fill in the information in the boxes provided. The process is very similar to creating the company page.
Note: it's important to associate this Showcase page with your company. You do this by searching for your company in the first box:
5. Is SEO important for LinkedIn company pages?
Yes!
Google crawls your LinkedIn company page as it does any other website. Optimizing your tagline with the right keywords will boost your chances of being seen on Google. Whatever SEO strategy you use for your website, use it for your LinkedIn company page as well!
6. Add featured groups
Note: you cannot follow individual users, groups or hashtags as a company on LinkedIn. However, you can display up to 10 featured groups on your company page to give users more information about your brand.
7. Check out the competition
LinkedIn publishes an annual list of what it considers the best 10 company pages. Check out this year's list. You'll see these companies implemented the vast majority of strategies listed above. Try to find a brand that operates in a similar niche to your business, and objectively analyze their page. What does this brand do well? And what can you apply to your own company page?
Take your LinkedIn activity to the next level with Metigy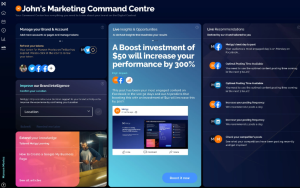 If you're serious about using LinkedIn to boost your social presence, increase brand awareness and attract potential candidates, you need to have a social media content strategy. Today, it's not enough to post the occasional update about new hires or a photo from a company event. You need to go the extra mile.
LinkedIn is like any other social media platform. Users want engaging, concise and interactive content. Metigy makes using LinkedIn easy with features like marketing objectives, daily to-do actions, insights and recommendations providing you with decision support to always make the most effective choices. A standalone social solution can take your LinkedIn content strategy to the next level.
Learn more about how Metigy can help you create high-quality content and a strategy that gets engagement, conversions and grows your audience.