Over the past few years, Instagram has become such a popular social media platform that it's expected of brands to have an account, too. But aside from those expectations, there's also the fact people use Instagram to discover and research products, as well as make purchase decisions.  According to a Facebook-commissioned study of more than 21,000 people, 83% of respondents discover new products or services through Instagram. And 81% use the platform to research products or services. More importantly, 80% say Instagram helps them decide whether to buy a product or service. So if you're a brand, you can't afford not to sell on Instagram, especially since the platform has introduced Instagram Shopping (more on this later).  Here are a few of our favourite Instagram best practice examples showing you how to sell through Instagram from real-life brands nailing features like Instagram Shopping:
Example #1
Perfect your Instagram visuals, like @frank_bod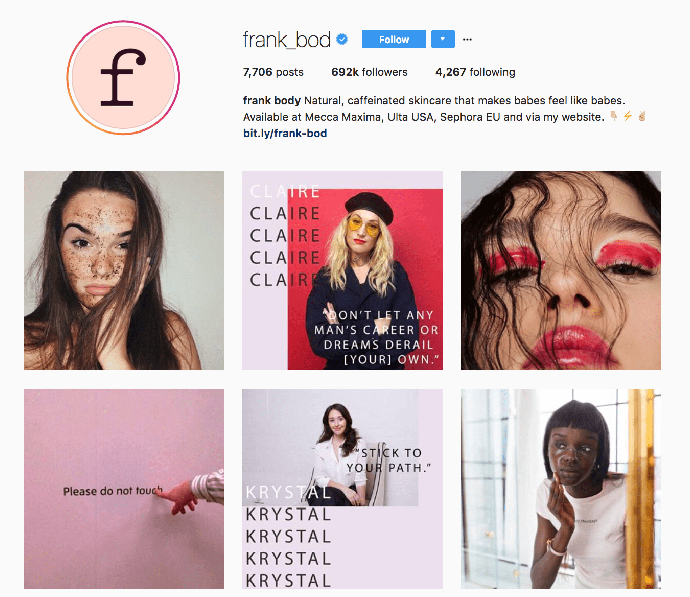 Clean and captivating images can make a compelling case for your products on Instagram. Being a visual platform, Instagram is a place where eye-catching visual content takes centre stage. So make sure you post high-quality photos and videos that clearly highlight the best features and details of your product. Try to stick to a particular kind of mood for your visuals to maintain consistency in your visual branding. For instance, maybe bright photos with popping colours work best for you or you prefer clean and minimal images with muted colours. You could even follow in Frank Body's footsteps and make the most of user-generated visuals instead of professional photos.  User-generated content works great for Instagram selling because it serves as social proof and testimonials for your products. Even though it collects visuals from a variety of users, Frank Body still keeps its feed consistent, following the brand's signature pink as a colour scheme. This type of visual consistency is essential for building and maintaining your brand identity on social.
Example #2
Create Instagram Shopping posts, like @friendofaudrey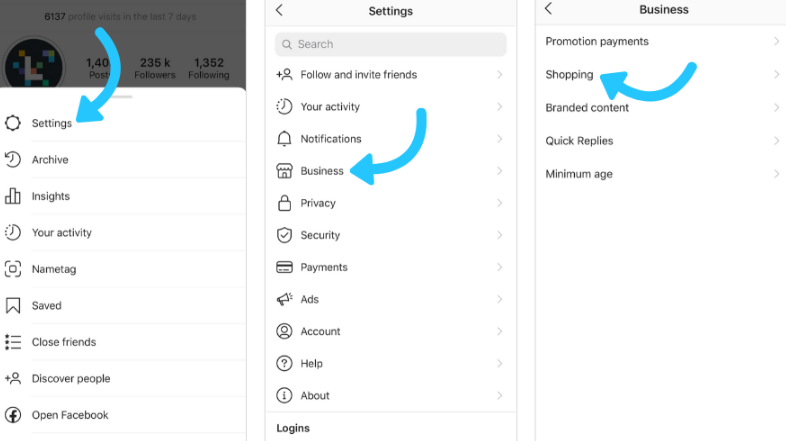 Instagram Shopping is a new set of features that allow people to shop your photos and videos.  One of those is the 'Product Tags' feature, which allows you to create posts that are shoppable. With this, you can add a tag to the products featured in your posts. And people can click on those tags to learn more about the product such as the item name and pricing. This makes it much easier for people to buy through Instagram, as it saves them the trouble of visiting the brand's website and searching for the item. Instead, they can learn all about the item they're interested in and go to the website once they decide to make a purchase. (At the time of writing this post, checkout on Instagram is only available for US-based sellers.) Friend of Audrey creates shoppable posts featuring products that have been styled immaculately to make the brand irresistible to shoppers. Don't forget that you can also make your Stories shoppable too. Instagram gives you the option to add product stickers to your Stories. And when someone clicks on this sticker, they can get more info about the featured item. 
Example #3
Build an Instagram Store, like @baileynelson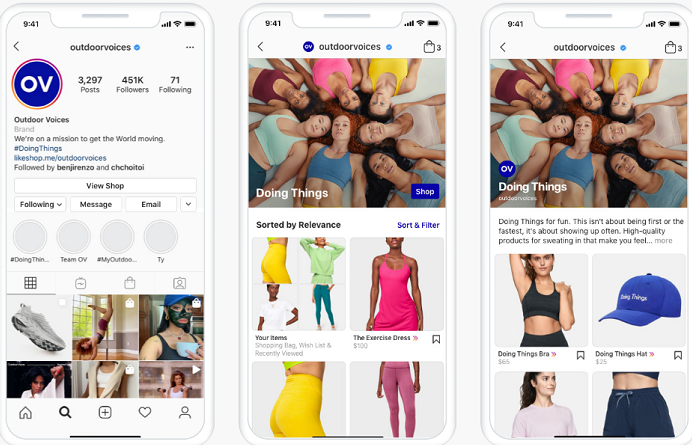 To make it even easier for people to shop on Instagram, you can build your own Instagram Store for shoppers to browse.  Part of Instagram Shopping, your Instagram Store is just what the name suggests. It's a storefront that you can build on the platform, which allows Instagram users to seamlessly browse through your products without leaving the app. This saves them the trouble of disrupting their Instagram browsing experience to go to your website. So they're much more likely to take a glance through the products in your collection, which also means they might end up finding something they want to buy. Bailey Nelson, the Bondi-based sunglass brand, has an Instagram Store that people can browse to find what they like. If you click on an item from this Store, you get more information about it such as the description and size.
Example #4
Drive Instagram discovery with hashtags, like @adairs

Hashtags are to Instagram what keywords are to Google; they're critical to drive visibility.  Adding the right hashtags will help Instagram figure out what your post is about. This improves the chances of your post showing up, not just in searches for those hashtags, but also in the Explore pages of people who are interested in similar posts. In other words, hashtags improve the chances of prospective customers discovering your posts and products. So, if you want to get more sales through Instagram, you need to beef up your posts with relevant hashtags.  Typically, you should use hashtags that describe your product – for example, #handmadejewellery, #silverearrings – but, you can also use phrases specifically relevant to your brand – for example, #Glossier, #cloudpaint, etc. Adairs uses branded hashtags like #adairs as well as other hashtags that describe the products in each post such as #footstool. They also use other general hashtags relevant to the brand such as #interior, #home, and #design.
Example #5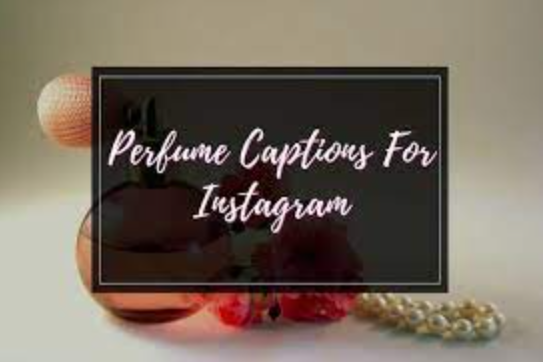 While your visuals are there to instantly capture attention, they may not always be enough to convince people to buy the product. That's where your captions come in, as they give more context to the post and allow you to make a case for the product you're selling. Make sure your captions can give people a reason to convert. Use them to relate to the audience, evoke a certain emotion, and give a call-to-action. Maison Margiela Fragrances does a great job of this with their descriptive captions that try to evoke certain emotions or put the audience in a certain mood. 
Ready to start selling on Instagram?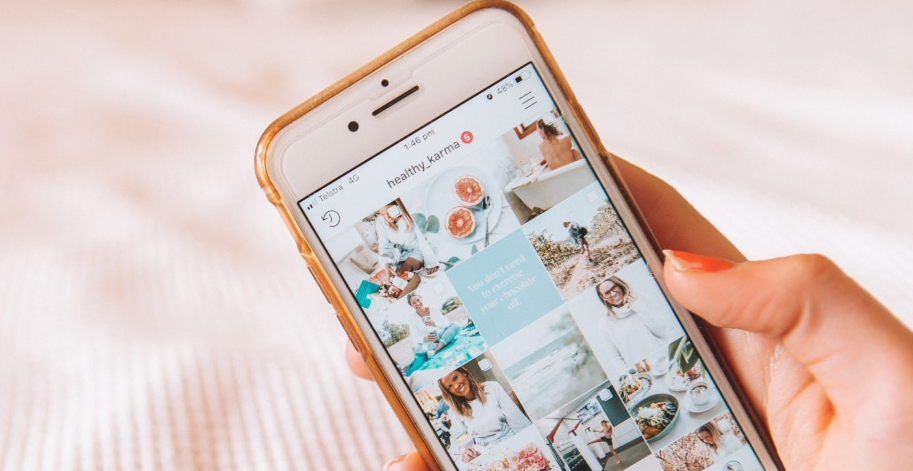 These brands have nailed the basics of Instagram selling, so they can serve as an inspiration if you want to get better at selling through Instagram.  Don't forget that some of your prospects might not always know that your posts are shoppable. Make sure you remind them every now and then about the different ways to buy your products when you're posting your content to Instagram. In addition, you can amplify your Instagram selling efforts by running paid ads. Consider running ads that feature attractive visuals and shoppable product tags to seamlessly take users through the discovery, consideration, and conversion stages. 
Happy selling!
Start posting to your Instagram feed today with a free trial of Metigy's social media scheduling calendar and management tool – click here to try it for free.
Already a Metigy user? Log in and explore Instagram Content Publishing today.