Google My Business is a free service that allows businesses to appear in both the Google Search index and Google Maps. Adding your business listing is a great way to boost your brand's visibility on the world's favorite search engine.
But how do you actually set up Google My Business?
This concise guide will walk you through everything you need to know about setting up a Google My Business listing.
Let's dive in!
Step 1: Create your business profile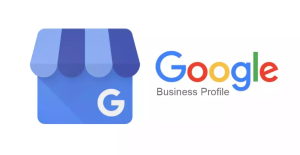 The first step is to head over to Google My Business. Once there, click Get Started and enter the name of your business. If you are creating a business for the first time, you will have the option to add your business:
Next up, select a category that best describes your business. Here, I am choosing e-commerce just as an example: 
Next, select whether you want your business to show up in Google Maps and Search. Most users will want to hit yes here: 
Enter the address of your business and hit Next.
If you need to add another location, do so by selecting Yes and adding other locations.
Note: If for some reason you choose not to list your business in Google Maps and Search then you can still add a location where you serve your customers: 
Add the locations where you serve your customers:
Finally, add your contact details and website. Note: if you own a website related to your business and are registered for Google Search Console, verifying your business will be a lot easier.
Step 2: Verify your business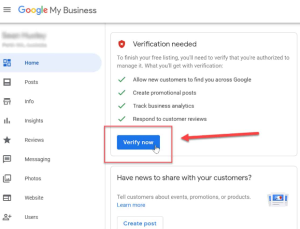 There are a few different ways to verify your business. Depending on the nature of your business, you may not see all the options. Once you hit verify you will be able to see the options you have. All the options work the same way: you will receive a verification code with which you can claim your business. 
The options for verification are as follows:
By mail

– you will be sent a postcard with a verification code. Note that this can take up to 14 days for the postcard to arrive. This is the default option that Google offers. The other options are only offered to certain types of businesses (Google doesn't provide much detail on this.) So just check which option you have available.

Instant verification via Google Search Console

– this is perhaps the easiest option. The prerequisite is that you already have verified your business's website with Google Search Console. If you don't know how to do this, Google has a

handy guide

. Make sure you are signed in to the same Google account that you use for Search Console. Google notes that this option is not available for all businesses.

By phone

– this option is only available for selected businesses. If you see this option, you will have the chance to receive your verification code via automated call. 

By email

– if you want to use this option, hit

Verify now

and you will receive an email. In the email hit

Verify now

again, and that's all there is to it.
After verifying your business, hit Finish. Congrats! You now have a Google My Business page.
Let's explore some of the features of Google My Business and how to optimize your listing.
How to use the Google My Business Dashboard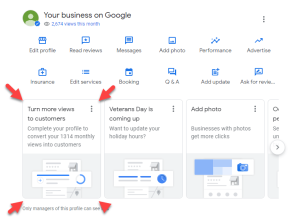 Once you have added your business, you'll see your Google My Business dashboard. This is the nerve center of your My Business listing. Here, you can manage your listing, read customer reviews, add locations, and a lot more! Here are a few of the lesser-known features you can implement to help maximize your business listing.
Create a special offer
Did you know you can even create a special offer? 
To do so, click on the Posts tab on the left and then hit Add Offer:
Or you may see this pop-up message if it's your first time using the dashboard:
Here, you can add a special offer and even include a coupon code with a link to your store. Now, when users view your business on Google they will be shown this offer to entice them to visit your store. Pretty cool, right?
Note that the majority of features are only available after you verify your business, so make sure you do that first!
Add products
So this function is currently in beta, but it's a great feature, particularly for e-commerce stores. Head over to the Posts tab again and click Add Product. Fill in the details of your products, including pricing, a link to your stores, photos, and any additional information. Now, when users view your business on Google, they will be able to see what products you offer and in one click they can jump straight to your product landing page.
Automatically create website 
The vast majority of users will already have a website, nevertheless, it's a feature worth mentioning for those just starting out. Head to the Website tab from within the dashboard and Google will conjure up a website based on your business type and the photos you have added. 
How to optimize your Google My Business listing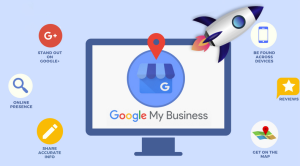 Follow these simple tips to make sure your Google My Business listing is as optimized as it can be:
Make sure all your information is complete and up-to-date. This can include product listings, opening hours, and contact details.

Use high-quality photos. Try and tell a visual story that lets users get to know your business. If you're struggling for inspiration, check out brands you like and see what photos they use for their page. To add photos go to the

Photos

tab in your dashboard:
Bonus tip:

Did you know you can add a video to your Google My Business page? Use this video to tell a story that represents your business and stand out from the crowd.  

Keep an eye on your insights. Head over to the

Insights

tab to discover user data for your store. Try and optimize your store based on these insights. For example, make sure your photos and store identity resonate with your users based on the demographic information.
Get started with Google My Business today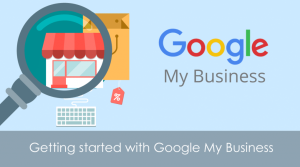 We hope you found this post useful and you're ready to get your Google My Business. Setting up your listing can help bring extra traffic to your store and increase the visibility of your brand. To get even more visibility for your business, you may consider creating some Google Ads. Metigy has just built an easy way for SMEs to create and manage Google Ads with just a few clicks in a simple interface. Find out more here.