Instagram is a great way to share unique content and interact with your target audience.  An individual post, a reel, or a story can offer critical insights into user behavior and guide your marketing choices. 
But how effective is your Instagram marketing strategy? Marketers tend to focus on crafting their Instagram posts and keeping an eye on their number of followers, but this isn't the only way to improve your brand's Instagram performance. 
The only way to know if your Instagram account is successful is by tracking Instagram metrics that help you plan, execute, and optimize your social campaigns to promote follower growth.
You can then obtain insights that you can use to create better, more targeted content for your users. This video from Social Media Examiner explains how you can use Instagram metrics for new content development.
This quick guide will get you up and running with the essential Instagram metrics and the best ways to track them.
How can you see Instagram insights?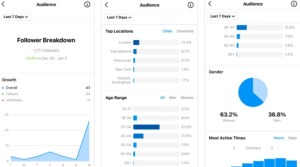 First, you need to upgrade your Instagram profile to a business account to see Instagram insights.
The good news?
It's free to upgrade your personal Instagram account to a business account. This only takes a few quick taps from within the settings menu. 
Upgrading to an Instagram business account gives you the following benefits:
Instagram insights

– see critical analytics data on how your posts are performing.

Additional contact information

(phone number/email) 

Promoted posts
The only two restrictions that apply to an Instagram business account vs. a personal account are:
Your Instagram profile must be public, not private

– this means your posts are not only sent to your followers but can be accessed by every user.

You cannot link multiple Facebook pages

– each Instagram account can only be connected to one Facebook page.
How to use native Instagram insights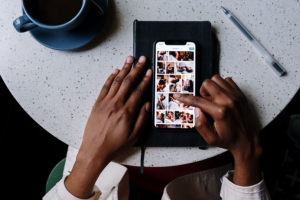 Now that you've upgraded your account, you can view your Instagram insights. You should notice that a new analytics button is now available from your profile page. Click this in the top right corner of your business profile to view your Instagram insights.
By default, Instagram takes you to the Activity tab. This tab contains your four key metrics: Profile Visits, Website Clicks, Reach, and Impressions.
Two of these metrics are self-explanatory: profile visits show how many users visited your Instagram profile in a specific period, and website clicks show how many users clicked on the link in your bio.
Divide your clicks by your visits and multiply by 100 to get your Instagram profile click-through rate. 
But what about impressions? Instagram impressions are a crucial metric yet often misunderstood. Instagram defines this metric as "the total number of times that all of your posts have been seen." 
This is a little misleading. A better definition of Instagram impressions is the number of times your posts have been served to users. 
When you post something or share a story, this may appear in another Instagram user's feed. But it usually appears alongside other content. This is a crucial distinction because:
An impression does not mean a user has engaged (clicked or liked) your content.

One Instagram user creates multiple impressions when viewing the same content numerous times.
Your number of impressions is a good indicator of how strong your brand awareness is and can help guide the type of content you publish on Instagram. 
Audience insights
The audience tab provides your follower count, demographic data about your users, and gives you key insights into your Instagram followers. This includes gender, age range, geographical location, and what times your followers are most active (which days and time of day).
Content insights
The metrics in the Content tab include post-specific insights from your feed, your stories, and paid campaigns. Here, you can see post-specific metrics such as reach, impressions, or engagement. 
Instagram defines engagement as the number of likes added to the number of comments on a post.
You can also get insights into your Instagram stories. Click on a story to view metrics, including:
Forward

– the number of taps to see the next photo or video in your story

Back

– the number of taps to see the previous photo or video in your story

Exited

– the number of taps to leave your story

Replies

– the number of replies to this photo or video in your story

Next Story

– the number of taps to see the next account's story
5 important Instagram metrics to track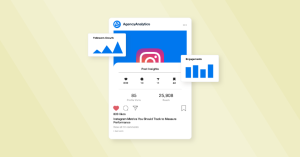 Knowing which Instagram metrics to track may seem daunting, but it's the difference between successful marketing campaigns and marketing efforts that fall flat. 
Let's look at which metrics are the ones to watch on Instagram Analytics to grow your business, 
1. Reach
As you monitor your Instagram profile's performance, reach is one of the top metrics to consider. This benchmark is often confused with impressions but has a few key differences. 
Definition:
Reach is simply the number of unique accounts to which Instagram serves your content. If the same user is shown your content multiple times, this only increases your reach by one. Unlike the number of views, this metric only counts how many users your content reached. So essentially, you'll know the number of people who have viewed your posts. 
Why it's important:
Any influencer can tell you that your reach is critical to build brand awareness and reach the most Instagram users possible. It also shows just how successful your content strategy is and allows you to capitalize on the success of a specific Instagram post by analyzing which factors contributed to the reach. 
Tips To Use It: A great way to increase your reach is to use branded hashtags and trending hashtags. Be sure to track your reach rate, which is the percentage of your Instagram followers who see your post. 
2. Engagement rate
Your business's Instagram engagement rate is a crucial indicator of how your Instagram followers respond to your content. If your followers like, save, comment, and share your content or branded hashtags, your engagement rate will reflect this.
Definition:
Engagement tracks how involved your Instagram followers are with the type of content you post. Your engagement rate is calculated by dividing your total number of comments and likes by your total followers. Then, multiply this number by 100 to find the percentage. 
Why it's important:
A high engagement rate means that a large number of your followers are engaging with your Instagram content. This indicates how efficient your content strategy and marketing efforts are. 
Tips To Use It: Don't use engagement metrics to measure the success of your video content. Users will often engage with a video by viewing it rather than hitting the like button. Use metrics like comments, reach, or views to measure your videos' KPIs. 
3. Comments per post
While Instagram likes are great, comments are worth much more in terms of engagement. 
Definition:
Simply put, comments per post is the number of comments you receive on each Instagram post.
Why it's important:
It's easy to like a post, but typing a comment takes time and effort, which shows you've really caught your followers' attention and connected with them on some level. Monitoring the average comment amount is a great way to know if your audience is less engaged, which allows you to adjust your approach quickly. 
Tips To Use It: Make a note of which individual posts are getting the most comments and see if any patterns emerge over time. Your users may enjoy a particular type of video or product photo, so you will be able to adjust your content strategy to give your audience more of what they love. 
4. Link Clicks
Not only is your web traffic volume essential, but you also know where those visits came from. You can do this by tracking link clicks. 
Definition:
Link clicks refer to the source of the traffic that lands on your Instagram profile. It's measured by creating URLs with UTM parameters added to the end. These additions can tell you exactly where specific profile visits came from. 
Why It's Important:
You can add a Google Analytics dashboard to the social traffic. These unique URLs track goal completion rate, goal value, and how well traffic from Instagram drives conversions. 
Tips To Use It: Always shorten your UTM URLs with a link shortening tool to prevent confusion. 
5. Sales
Instagram has many features that help brands like yours drive sales on the social app. From creator-led shopping to fully-integrated product tagging, tracking sales metrics is essential for eCommerce success on Instagram. 
Definition:
This metric tracks how many eCommerce sales you make from Instagram. You can track it using Instagram Insights. 
Why it's important:
The sales metric helps you understand how effective your Instagram profile is at making sales. It also allows you to see which types of content work best for driving conversions and sales. 
Tips to use it: Try a social media insights tool, like Metigy, to track posts geared towards selling. This tool can help you see the times you need to post your eCommerce marketing content so that your target audience is more likely to see it and make a purchase.  
Is there a better way to track Instagram metrics?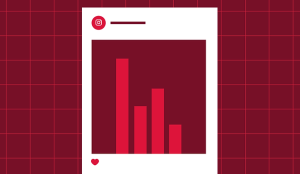 Native Instagram insights are certainly an excellent place to start, and they provide valuable data. But one thing they are missing is a professional marketing dashboard. There is no way to use custom date ranges or define your metrics.
And once your social output starts to grow, it can quickly get cumbersome to use the Instagram analytics tools to plan your social campaigns, as there is no way to view data across your other social profiles.
Anyone serious about social media marketing needs a dedicated social dashboard like Metigy that automatically creates insight dashboards, giving you the data you need at a glance. Not only that, but you can easily define your metrics and create your own charts. 
Metigy's all-in-one social media management tool means you can stay organized, attract new followers, and offer your users the best possible experience.
Learn more about how Metigy can automate and optimize your social workflow here.
FAQ
How do you track follower growth?
Track follower growth by calculating your follower growth rate: divide the number of new followers by the number of followers you began with, then multiply by 100.
How can I find the right Instagram hashtags?
Find the right Instagram hashtags, research your competitors, create branded hashtags, and target small-sized hashtags. 
Is there a way to make Instagram posting quicker?
Make Instagram posting quicker by creating a solid content strategy, using a social media scheduling tool, and scheduling within the Instagram app.