Keeping your business top of mind online means keeping up with the latest trends. If you haven't jumped on board yet with Instagram Reels, here is what you need to know for reel success (yep, we did that). 
Short-form videos have proven quickly to be one of the most effective video content businesses can run on their social media platforms. Younger generations have been flocking to these short forms of video content because of their easy-to-digest and highly entertaining content. 
Here's a beginner guide to creating your first Instagram Reel.
Step 1. Click on the bottom center button to access Reels and then click on the top right hand side camera icon to begin a Reel. 
Step 2. On the left hand side of the screen, you will see a few extra tools:
Audio:

Select a song from the library and drag your finger back and forth to select a specific portion of the song that you'd like to use.

Duration:

Pick the desired speed of your video. You can choose between




15, 30, 60 and 90

seconds.

Speed:

If you want to add an extra effect, you can record in slow motion or with faster speed! Settings range with




.3x, .5x, 1x, 2x, 3x, and 4x.

Layout:

Split the screen of your video in different sections. There are six extra grids in there!

Timer:

Choose how long your clip will be while including a countdown before the phone starts recording

Duel:

Record your front and back camera simultaneously.
Step 3. When you're ready, tap, and hold the record button to record a clip. If you set a timer early on, there's a countdown before the recording starts.
Step 4. Once you're done with recording, you can add stickers, drawings, and text to edit your Reel.
After completing your recording, click "Next >" and you're officially halfway there! The next part is crucial for getting as much reach as possible.
Create your caption and share your Reel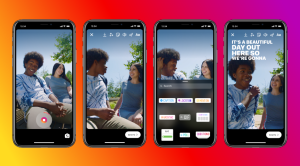 Step 5. Create an eye-catching caption
There is a time and place for long form captions like when you break down a tutorial or give additional context to an education piece you have made. But for Instagram Reels, you have to create an eye-catching one liner to draw the video's attention. 
The aim is to keep them fixated on your video. The shorter and more snappier the copy is, the better! Why?
Because if you observe the Reels when scrolling through, you can see that only a small amount of text can be seen. Then, if you need to, expand on your caption.

Step 6. Make your video more visible by adding hashtags
Instagram allows you to insert 30 #hashtags into your caption. Using a mix of large performing hashtags and smaller, more niche hashtags will get your video discovered by mass and niche audiences. 
Tip: It's important to be vigilant about counting your hashtags. Reels or posts often have trouble uploading if you go over the hashtag count and you can potentially lose your work. Although Instagram shows a warning, take your time and keep count.
Step 7. Choose your cover
Once you are happy with your captions and hashtags, tap "Cover" on the displayed image to edit the cover photo with a video thumbnail or to upload an image from your camera roll.
Tip: Cover photos are the gateway for viewers to click on your video from your account page, or from the discover page. So keep it intriguing! Either use a cover photo that captures the most movement, or create a cover photo that tells the viewer what the Reel will be about.
Step 8. Publish!
Click on "share" to immediately publish or "Save as draft" to publish it later.
Now you're done!
Instagram Reels are a new way to expand your reach and visibility, build trust, and connect with new potential customers. So utilize it and get creative!