Half of all SME's fail in the first two years and according to Harvard research, marketing inexperience is always one of the top two reasons. If you add to this already sobering statistic, the complexity of a franchise head office trying to manage the branding, messaging and social media marketing of multiple franchisees, it can seem quite overwhelming and hard to even know where to start.
David Weinberger from the Digital Marketing team at Mortgage Choice was facing this exact problem for their national network of professional mortgage brokers and financial advisers. After using 3 different software solutions simultaneously for all franchisees, David discovered Metigy and saw what the power of AI and automation could unlock for Mortgage Choice franchisees.
Why Metigy is the ultimate marketing tool for franchises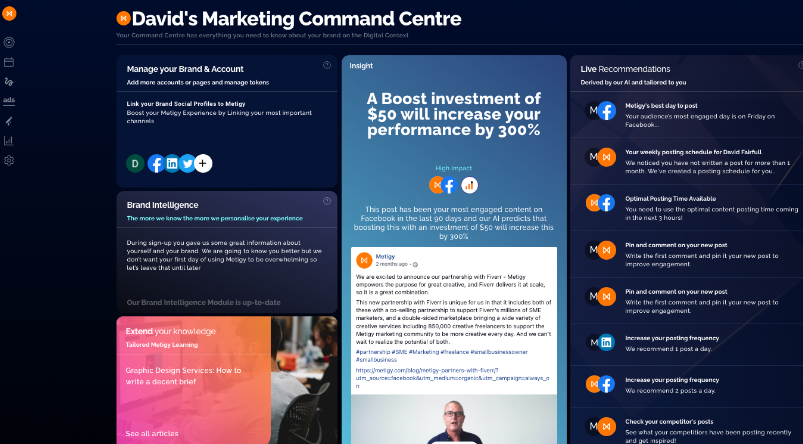 Metigy's AI-powered real-time Insights, Recommendations & Resources help even novice marketers achieve 2x-3x improvement quarter on quarter. The team at Metigy worked with David to rollout the Metigy integration for Mortgage Choice.
You can see the results of Mortgage Choice using Metigy as its marketing franchise solution in the video below:
As you can see in the above video, Metigy has streamlined the Mortgage Choice workflow when it comes to social media marketing with their franchisees. Metigy works totally out of the box and has proven to be a cost-effective way for Mortgage Choice to optimize their social media marketing efforts.
The Mortgage Choice franchisees knew that social media marketing was important, but before using metigy they just didn't have the time or know-how to execute an effective campaign. Metigy has made it really easy for franchisees to stay on top of their content plan and has enabled them to reach younger audiences and continue to build their customer base.
Could Metigy be your perfect marketing solution for your franchise?
Check out the reviews from Mortgage Choice franchisees below:
How Metigy has transformed marketing at Mortgage Choice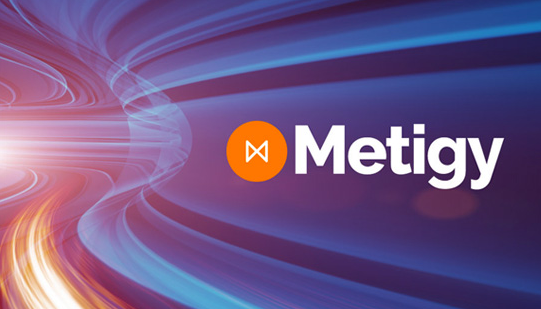 David Weinberger
MORTGAGE CHOICE – HEAD OFFICE
Problem
For Mortgage Choice, the problem we face is two-fold. The first is that we have several hundred brokers who aren't trained marketers and lack time for marketing content. And the second is ensuring that the brokers are sending the right, branded messages and staying on top of important announcements.
Their Background
Mortgage Choice's mission is to help people take control of their finances so they can spend time doing things that make them happy, with the people who are important to them. Since its founding, Mortgage Choice has evolved into a fully-fledged financial services provider with over 450 franchisees and 50 financial advisers in their network. 
With solid roots in innovation, the business has invested heavily in new technologies to enable its franchise network to solve their unique challenges in automation and omnichannel marketing.  
How has Metigy helped franchisees manage their social media profiles? 
It has meant that the marketing team can focus on creating content that supports the brand messaging through the content and news they share. And the franchises are now confident they will always have content that is high quality, branded and accurate.
The franchises are also feeling more connected with the head office, enhancing that relationship and building a new level of trust between them. It has also led to more franchises becoming active on social media and start to take their social media marketing more seriously. The return for then has seen other benefits, such as attracting a younger audience.
But, they also are feeling more confident in being autonomous and starting to create more of their own local, authentic content which is driving even more engagement.
And being able to use Facebook Ads and Google Ads all from within the same platform has given franchisees more confidence to increase their marketing budgets.
Summary
The solution Metigy has provided to support franchises has enabled Mortgage Choice's head office marketing team to provide branded content continually that the franchisees can quickly opt-into and customize. This has meant that across the whole brand, they are seeing an increase in social traffic, brand awareness and social media generated leads! And all the Franchisees are benefiting from having a constant stream of content on their channels saving them time and generating more leads.
Maureen Johnson
MORTGAGE CHOICE – SUTHERLAND, CRONULLA & WOLLONGONG
Problem
Running 4 Mortgage Choice franchises whilst also trying to manage all of their social media pages is a massive challenge.
Their Background
Husband and wife, Peter and Maureen Johnson are savvy and dynamic franchise owners who have seen tremendous success in their business. Their multi-award-winning franchises now span across the Sutherland Shire and Wollongong.
The foundation of their success has been their holistic and customer-centric approach to helping Australians achieve the great Australian dream. This includes financial planning advice provided to their clients as they believe that buying a home is just one step in the journey to financial independence. 
They have built a large team of employees who all bring their own unique skills and expertise to the table and have earned a trusted reputation in the local area, with most of their business coming from repeat clients and client referrals.
How has Metigy helped manage your social profiles
Metigy is instrumental in connecting the efforts of the marketing team at Mortgage Choice Head Office with the franchise owners. The support and simplified approval process from head office saves a lot of time because it provides regular content that's on point for the brand.
One of the most useful aspects of Metigy is the ability to pre-schedule content weeks in advance across all social media pages through my individual dashboard."  
Over the last year,  Maureen has increased their organic reach 1000% thanks to a constant content stream of corporate-approved content from head office, which she then supplements with their own local, authentic content.
But, Maureen also finds the entire experience seamless. When new content is available from head office, an email is sent notifying her that it has been released. She is then able to edit and update the content making it relevant to her clients across Facebook, Linkedin and Instagram.
Summary
Maureen is preparing to launch a new marketing strategy with Metigy's insights, scheduling and decision support providing forming an integral part. The detailed reporting and analytics from the Metigy platform will provide invaluable insights into helping her really talk to her audience at the times when they are most likely to be responsive.
Janet Jenner
MORTGAGE CHOICE – NORTHERN RIVERS
Problem
The team wanted to build awareness and find new audiences.
Their Background
Mortgage Choice in the Northern Rivers has been operating their Lennox Head shopfront for over 20 years, helping their clients achieve their financial dreams. This success has led them to open the second shopfront in Alstonville to help meet the demand and grow their presence in the surrounding suburbs. 
Many members of their team consist of born and bred local community members who have been with the franchise for many years. 
Owner operator, Janet Jenner, is passionate about building a warm and friendly team, where clients feel comfortable navigating the sometimes challenging borrowing process.
How has Metigy helped manage your social profiles
Metigy has helped Janet focus on brand awareness in her local area. With the support of head office using Metigy, it has delivered big-time savings.
A bonus of having a more active social stream was that it meant a shift in their new customer audience.
"Having more of a presence on Facebook has brought younger customers to the business."
With the backbone of planning done, the team were able to focus on running a local competition. The effect of which was an increase in local engagement and a large growth in page followers.
Summary
Thanks to time saved and ease of planning over the last year, there has been a consistent growth on social media along with finding a new and younger audience.
Finding a new audience of potential customers is something that takes time. Janet was able to remain highly active on key platforms thanks while using metigy, with a peak of 800 users impressions and 24 engagements on Facebook in a single day. 
Jo Duncan
MORTGAGE CHOICE – BROOKFIELD, KENMORE, ST LUCIA, GRACEVILLE & SURROUNDS
Problem
Jo's biggest challenge has been staying active on social media whilst being a mobile broker.
Their Background
Jo Duncan is a mobile broker servicing the Inner South West suburbs of Brisbane allowing her to offer a bespoke service at a time and location that suits her clients. As a local, for 20+ years she knows the unique needs and wants of the local community. 
Being a mobile broker, Jo's presence online is crucial to her brand awareness and acquisition of new customers. Jo's many 5-star customer reviews are proof that she is true to her word about being solutions focused and supportive of her clients throughout the home loan process.  
On the side, Jo loves a good reno, so there is a good chance you'll find her at the local hardware store on the weekend. 
How has Metigy Helped them Manage their Social Profiles
With the support of Mortgage Choice's head office marketing team, Jo was able to have content continually on hand, even when she hadn't had time to create her own authentic posts.
One thing that Jo loves about the content created by head office, is that it means that she didn't have to worry about staying on the brand because all of that content had been created and approved by the head office. But, that she can customise the post to ensure it has her details in it.
Another part of the Metigy experience Jo enjoys is Metigy Learning, where she can view the very best in how-to-guides, practical tips and carefully curated resources for mastering modern marketing all in one central location.
Summary
Jo has been able to maintain the growth on her pages thanks to a continual stream of content being available through the Mortgage Choice head office. This year she is planning to re-focus her strategy to use Metigy's marketing objectives to help drive conversions and awareness and carry on her 2019 growth that saw 100% growth of her social media audiences.
Being able to post consistently and at the right time is an important way to ensure your audience stays engaged. With the support of Metigy's Franchise model and the Mortgage Choice head office, Jo has been able to stay on top of her consistency, even when she's out on the road.
Are you a franchise finding it hard to make an impact with your marketing? Do you want the same results as Mortgage Choice?
For many small growing businesses, finding the time to run marketing campaigns can be difficult, especially if you don't have the experience, know-how or time. That's why we've partnered with Metigy AI, to make marketing your business easier. Metigy is made for SMB Marketers and helps you create high-quality content and a strategy that gets engagement, conversions and grows your audience. Metigy's AI-powered real-time Insights, Recommendations & Resources help even novice marketers achieve 2x-3x improvement quarter on quarter. It's just like having your own digital strategist.
Take the first step to better, easier marketing by signing up for a free trial of the ultimate SME marketing tool for franchises.